Bootylicious Ebony Queens for Every Sex Whim
So guys, once you've tasted black, there is no going back. And I certainly want to give you the taste of the best bootylicious ebony girls available out there in the live sex show universe. So this article will review the best cam sites that offer irresistible black queens who will take you on the hardcore experience of your life. Some of the sites are freemium and some are premium - meaning you will have to splurge on those gorgeous babes. Get your cocks and wallets ready.
---
CamSoda

If you are a hungry freeloader into extreme ebony live sex shows, CamSoda is the porn universe for you. Being a freemium means you get tons of free hardcore action, without shelling out a dime. On top of all that adult bliss, the quality of streaming is really great, as many of the models stream in HD. But, if you fall in love with that special babe of yours and want to take her for a private spin on your hard cock, then you'll have to tip.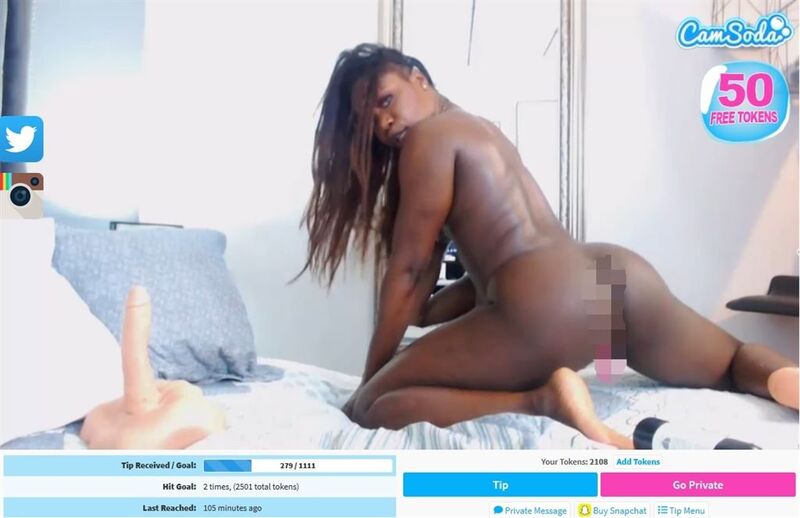 The Ebony sex queens of CamSoda are gorgeous, and it's no mean feat. Being an amateur, basically free, platform, the selection of black models is amazing, due to their beauty as well. They are not only obliging and eager to please you, but aesthetically pleasant too. At any given moment, there are close to 20 performers online. They come in all shapes and forms and you can find big bootylicious babes, along lean and athletic seductresses.
Getting into the Ebony section is a bit cumbersome here. Well, there is no place without flaws, you know, so navigation is the downer on CamSoda. If you do not wish to get lost in the endless tag searches, the quickest way would be to type 'ebony' in the search box above the general gallery screen, then hit enter and get all the black nymphs that are currently online.
One of the pluses of the site is its advanced video streaming, meaning you'll find many of the models doing their sex shows in HD (720p or 1080p), to enhance the pleasure of experience. There is no surcharge for that. Even as a freeloader, you enjoy the benefit.
However, if you decide to go private with your favorite Black Queen, the price rates are rather reasonable: the cheapest starts at $0.55/min with an average hovering around $2.75/min. The site accepts all major credit cards along alternative vehicles as well, so if you wish to pay in alt-coins, PayPal or wire transfers, you can safely do so. And by safely, I mean the platform is totally secure with regard to money transfers.
The bottom line: CamSoda is one huge black fuck fest paradise for all those who want to have all the sex fun without paying. It's amateur, but who said it's bad? Not me. If you can find your way with search, then it may be the most cost-effective live cam porn haven for you.
---
LiveJasmin

Well, LiveJasmin is certainly the 5-star ship of premium live sex cam platforms. Its models are all pros, and the settings are studio ambience, exuding a high end adult service vibe. Like if you would order an elite escort - the performers all look the part. Being premium, you don't get any nudity for free, just a short tease to arouse your appetite and get you to pay for those gorgeous babes playing with your schlong. The site is not cheap, but its offering of amazing cam shows may well be worth your dollar.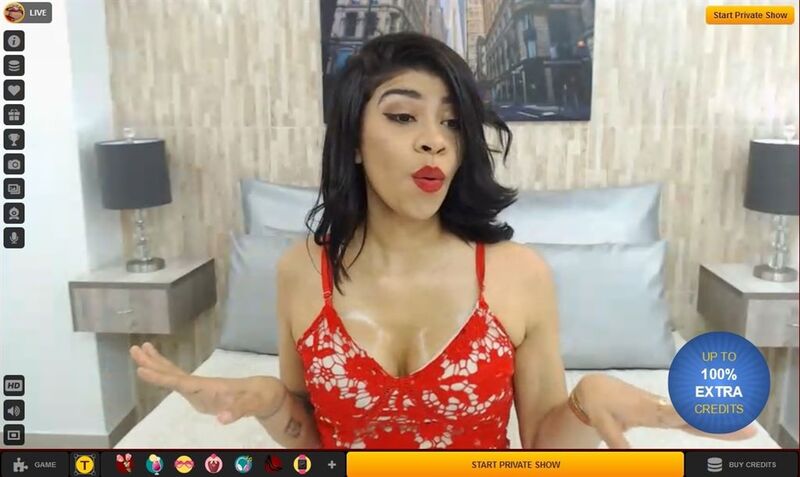 True to its nature, the selection of ebony girls is superb. At any given time, there are around 15 adult performers online, and they all do various kinks to pleasure the member. Fetish, dildo, lovense - you pay, they play. As simple as that. There is a nice choice of physiques: bootylicious booby nymphs, athletic sporty ones, boyish flats - whatever your sex penchant, LiveJasmin has it.
Getting into that category is really a piece of ass: you have a full listing on the left side of the screen, and as you scroll down, you come across the Ethnicity section, under which you can find the Ebony. Hit that and a full gallery of online live cam rooms is displayed. You just hover over the rooms to decide which girl rocks your cock.
To truly enjoy the experience, you have to become a paying member. But don't worry the costs are relatively reasonable. The cheapest private chat starts at $1.00/min and on average is around $2.40/min. However, cam2cam and 2way audio will set you back additional $1.00 - $2.00/min each. All shows stream in HD.
LiveJasmin is very liberal with the payment methods and allows huge range of options: from the traditional credit cards, over to brand gifts cards, along over 50 cryptocurrencies, in addition to PayPal. Money transfer tech is highly secure, so all your financial info is safe.
The Bottom Line: you get what you pay for. LiveJasmin's black sex shows are great in all respects: models, setting, action. If money is no object - go for it.
---
Streamate

Streamate is a different kind of premium live porn cam site. Its uniqueness lies in its full membership model, which is "pay-as-you-go". Meaning, no pre-paid credit packages, which may run out in the middle of the show. You pay only for what you actually 'consume'. Having said that, you still don't get access to any nudity for free. You may see an enticing tease that may make your dick itch, but to get beyond that will be possible only after your credit card is validated and the "till goes cha-ching". But hey, you can always cap the spend there. That's a major plus.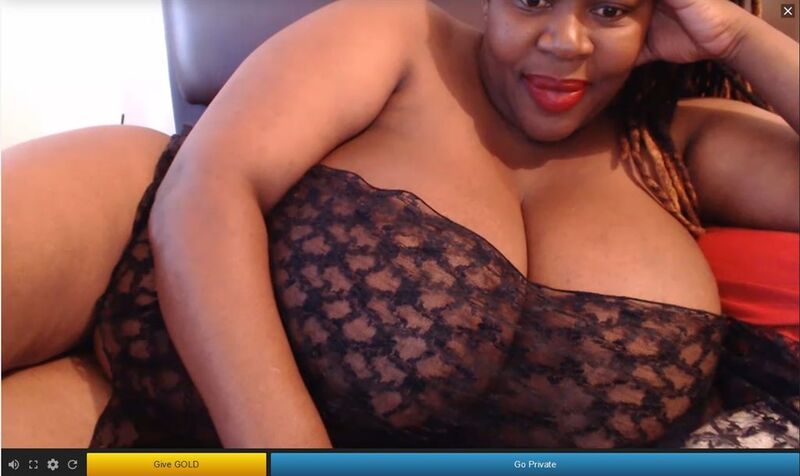 So the Ebony section of the site offers a nice selection of around 100 live show rooms. It's a good indication of the popularity of this sex category. The girls come in all shapes and forms and do any show imaginable: from just playing with their huge tits, to sticking their booties in your face, over to begging you to activate their lovense vibrator, or massaging dildos. Whatever gets your cock hard, they will happily oblige.
Getting into that category is easy. There is a dedicated button on the left side menu and when you click it, it opens directly into the general gallery with all the dark-skinned nymphs who are online at any given moment.
When you get into any room, even as a non-paying voyeur, you can see a wheel icon on the lower side of the room screen, which opens into streaming details. Many of the girls have an HD version (along the with Low Res), others have RAW, which is an equivalent to hi-def.
So how much will this black hardcore bliss cost you? The prices start at $1.20/min, with an average being closer to $3.20/min. In addition, some girls may have minimal time requirement to secure income. However, the site has a maximal day spend cap, to ensure you don't run amok with expenses. Very considerate of them, I would say.
The platform works with the major credit cards, and PayPal.
The Bottom Line: good site, user-friendly payment model, great selection of black sex models. Does anyone need more?
---
Flirt4Free

Firt4Free is a distinguished member in the live cam premium sex sites group. It's a nice and clean platform, where you can get access to full nudity only after becoming a paying member. Although, you do occasionally get a sneak peek, you will not get any serious hardcore chat for free. Its models are beautiful and come from all ethnicities: white, Latinas, Asians and Ebonies. The overall number of performers is not large, just several hundreds, but they all put up a superb sex show. Lets say it's more quality vs quantity with this site.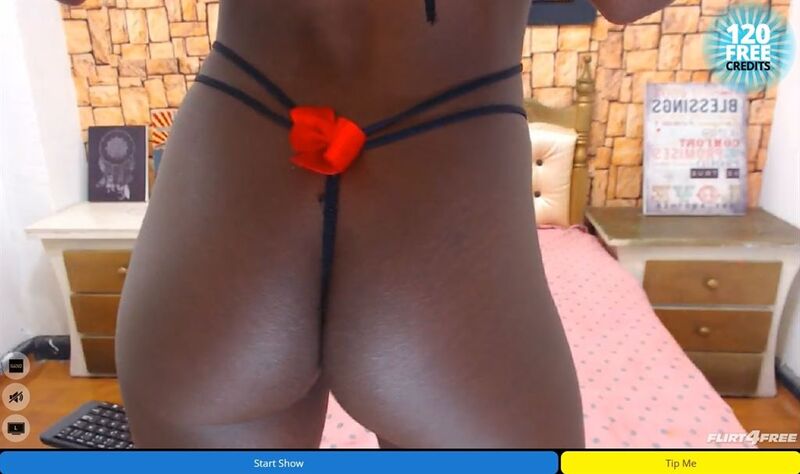 The number of online Ebony nymphs at any given moment is not great, sadly - just around 10 - but those that are there are gorgeous and inviting.They do your dick's bidding and play with it or their own dildos, lovense toy and fingers. Any kink your heart desires is their command. Also, the aesthetics of the models falls more into the athletic and slim range, so those who are looking for Big Mammas may not find much solace here.
Navigating into this category is beyond easy. You are practically just a click away the moment the site loads on your computer. Hover over the categories button above the gallery screen and a drop down of classifications opens up. Scroll down all groups and select Ebony. That's all - you are all set.
Most of the girls stream in high definition, and you can verify that by hovering the mouse over the models room, with a drop down menu showing 'HD'. The lowest resolution of hi-def starts at 720p.
So how much do those Ebony Queens cost? The cheapest rate starts at $0.45/min with an average being around $4.10/min. The most popular cam babes may charge as high as $20.00/min. If she has a Premier Chat on icon on her room, it means she one's of the higher rated performers and may commission even more.
On Flirt4Free you can pay with all the major credit cards and numerous alternative options, including cryptos, brand gift cards and PayPal.
The Bottom Line: aesthetically pleasant, user-friendly fun site. Can be affordabke if you know how to monitor your spending and find less wallet-strenuous options. But, you can also potentially lose your head (and dick) with splurging on those gorgeous sexy black nymphs. On Flirt4Free, it's totally up to you.
---
Cams.com

Cams.com is a veteran site in the live sex cams universe. It's been around for about 20 years now. Nice to see it still holds on and is in demand. The platform is a premium one, so you get access to all hardcore only after you pay. Until then, just endless tease and relentless pop-ups soliciting registration and payment. The site boasts several hundred of performers in various categories.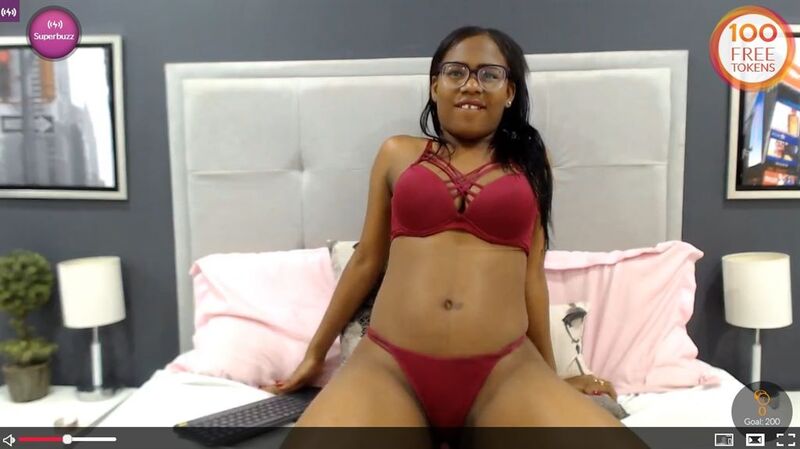 The choice of black sex models is not huge, a bit on the smaller side - anywhere between 10 and 20 online at any given moment. However, I like the aesthetics being in the more sporty variety. Each to their own, as they say. There are definitely Big Bootylicious Mammas with huge boobs, for those who are into that. All girls are sex hungry fiends who are eager to please you any way they can. They will do your cock, dildos, will shove their huge quaking derrières into your face or do any other command you give them.
Finding those Ebony babes is super-easy. The moment the site loads you have a visible category menu on the left of the gallery screen. Scroll down through the groups and hit "ebony" - et voila - the beauties open up before your eyes.
The predominant majority of them stream in hi-def quality, and to make it easier on the voyeur, each room has streaming identification in the lower corner of the room. Meaning, you can see the HD clearly, if the model streams the shows in 720p at least.
Price-wise these gals are not cheap. The lowest rate starts at $2.50/min and the average is around $3.00/min. So you decide if it's worth it.
With regard to the payment methods, this platform is a bit of disappointment. Maybe because it's "old" it's still entrenched in a somewhat conservative mindset and works only with credit cards, checks and bank transfers.
The bottom line: nice, but expensive and a bit restricted in the payment options sphere.
---
Conclusion
Taking into consideration all aspects, my prize for the top site in the Ebony live sex shows category goes without a doubt to CamSoda. And what's not to like, frankly? It's practically free, the cam girls are both gorgeous and cater to every preference, the streaming is high quality of HD, and even if you decide to go private and pay for the shows, the starting rate is really wallet-friendly. The only flaw of navigation is not serious enough to offset the benefits. So if you are like me, a guy who wants as much as possible for free, this live porn platform should be your destination.