Webcams.com - A Beautiful Looking Site With Plenty of X-rated Cam Girls
Important Update:
Webcams.com is now new and improved under the MyDirtyHobby brand - so go ahead, indulge yourself, click that button below and test all those new and awesome features for yourself!
Hello sweethearts! It's your fun lovin', cam lovin' pal Tom here ready and raring to go with another super-duper Top Rated Cam Sites review of another top rated cam site! Oh, I tickle myself pink sometimes! And speaking of pink things, let's go and see what's going on at another site that no doubt your pink thing is going to enjoy!
My carnal gaze has this time fallen upon Webcams.com. I was quite intrigued by that site name, as surely if you stumbled upon such a site you would not completely expect that it would be filled with lots and lots of lovely xxx cam models (and I can tell you straight away that it is! But much more of that later!), so if you were just searching for webcams in general, you might get a bit of a shock! Turns out that Webcams.com did indeed spring into life all the way back during the later months of 1998 as a general webcams site, but has since evolved into one of the best adult chat cam sites on the internet. It has won a couple of industry awards as well. I think I may have mentioned XBIZ before? Well they are a kind of news portal for the adult services industry, and each year they hand out gongs for the site that's best for dongs! And Webcams.com took home the award for 'Live Video Chat of the Year' in 2009, then again two years later! From my limited interaction with Webcams.com, I think I could see myself handing out my own awards to them too.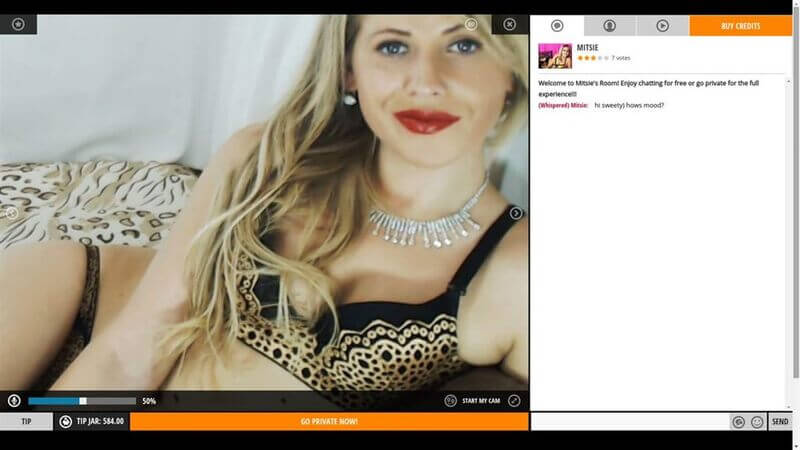 My Initial Thoughts ...
If you've been following my reviews (and I'll probably burst into tears if you tell me if you haven't) then you'll notice that the last couple of sites I have reviewed (and I'm going to mention any names) looked as if they had been made of paper, string and glue. Well, you can't lay that accusation at Webcams.com. Well, you could, but you'd be telling porkies if you did! They've obviously kept up to date with web trends, as everything is a sleek, sassy and sexy flat design. I say flat, but then the lovely babes certainly are not flat! You'll enter the site for the first time to be greeted by lots of buxom beauties and top-heavy totties - and as I mentioned before, the standard of webcam babe you encounter at Webcams.com is certainly a lot higher than some of the other adult chat sites I've seen, and digging around the old internet it seems that my view is certainly shared by many others. As well as the sexy ladies, you'll also find pornstar shows at the site, where you can see a real hot lady strutting her seriously sexy stuff.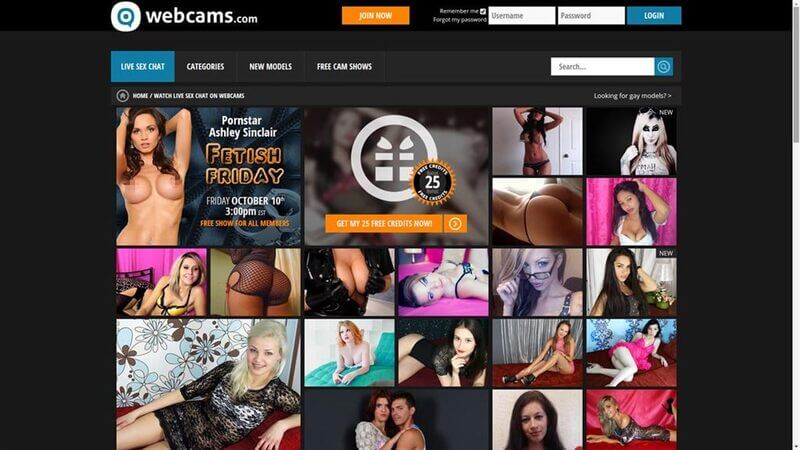 If you have a particular niche of sex cam model you like to interact with, then you can very conviently peruse the A-Z of categories that Webcam.com has provided you with, with categories that are pretty mundane, such as "Blondes" and "Big Tits" to others at the other end of the sexual spectrum (within reason), such as "Pregnant" (!) and that old horny chestnut, "BDSM". Clicking on your chosen category will of course take you through to see the x-rated models who are currently online. As usual, if you see a cam model who really gets you excited in a spectacular "WOW!" fashion from the off, then just hover your mouse over her thumbnail and you can see what she is currently doing. Don't expect to see the naughtiness here in free chat that you might have gotten used to at Chaturbate.com or MyFreeCams.com. The models are very classy and keep everything tantalisingly under wraps unless you're willing to spend some of your credits and engage with them in a 1-to-1 show.
Those Extra Features ...
There's not much that's "extra curricular" at Webcams.com, to be honest, and definitely nothing that you'll get that's extra special if you remain just a basic member. The porn star sex shows I mentioned above are only for paid-up punters. The only "freebies" you get as a freeloader are free chats and you see gallery photos of the models. I can't really find anything extra to get me excited even if you become a full member of the site.
How To Register ...
Signing up is not too difficult, as long as you have a credit card. You just need to click on the "Join Now" button at the top of the screen. To join, fill in a chosen username, a password and your email address. This will get you through to the next step of the process, for which you will need a piece of plastic fantastic. Yes - you heard that right ... you cannot experience anything beyond the free stuff unless you register a credit card. You also have to pay a nominal weekly charge (in the UK this is £1 a week) for the continued use of the site. This doesn't get you any credits, but you can buy credits at a very discounted rate for your first purchase. After that, you pay the same rate as everyone else.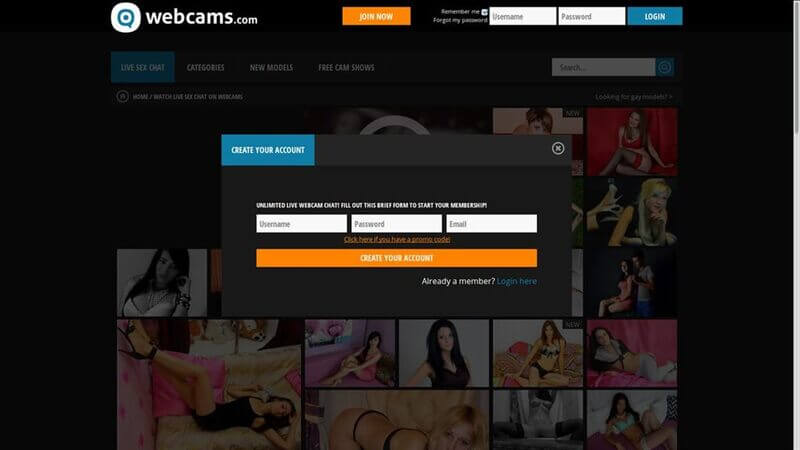 The Ways You Can Chat ...
There seems to be only two ways to enjoy at chat at Webcams.com - free or private, although you can get really up close and personal if you have a webcam yourself as you can turn it on so the model can see what you are up to, if the xxx cam babe is okay with that. It's up to the models how much they charge, and the prices range from as low as 0.99 credits to as much as 6.99 credits a minute, although the average charge seems to be around the 3.99/4.99 mark.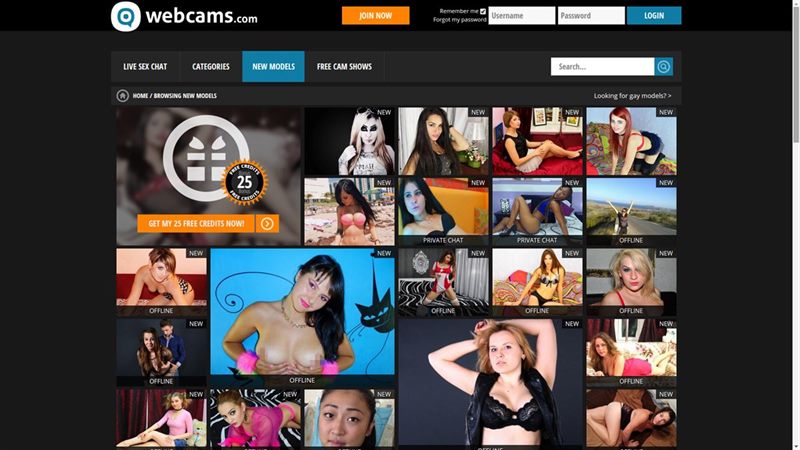 Quality of The Videos ...
This is where Webcams.com scores really high marks on the old Tom-Tom scale of sexual things. The cams at Webcams.com - and even "just" the SD streams - are right up there with the best, and I am talking LiveJasmin.com standards. The servers at Webcams.com must be as hot as the models! The HD is lovely - absolutely crystal clear.
How Much It'll Cost You ...
As I said above, the cam models can charge what they like (within reason) and there's the nominal weekly charge to consider. You buy credit packs as follows:
EURO €
GBP £
USD $
Price
Credits
Price
Credits
Price
Credits
€7.99
10
£6.66
10
$10
10
€23.99
30
£19.99
30
$30
30
€46.99
60
£36.99
60
$60
60
€66.99
90
£52.99
90
$85
90
€78.99
125
£69.99
125
$100
125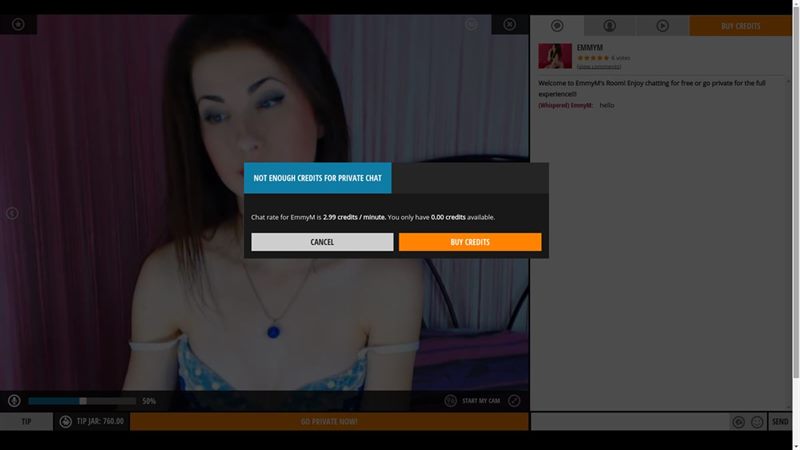 The Ways You Can Pay ...
It's credit cards only boys, and the site makes no mention of which credit cards they accept and which they don't, so I guess they do it on a card-by-card basis. As a pointer, my virtual credit card by "Entropay" was rejected, but my real flexible buddy by Visa sailed through.
How Many Models ...
From what I've been able to gather, there are around 4,000 sexy cam babes ready for adult chat fun at the site, and you'll usually find between 400 and 500 online at any one time.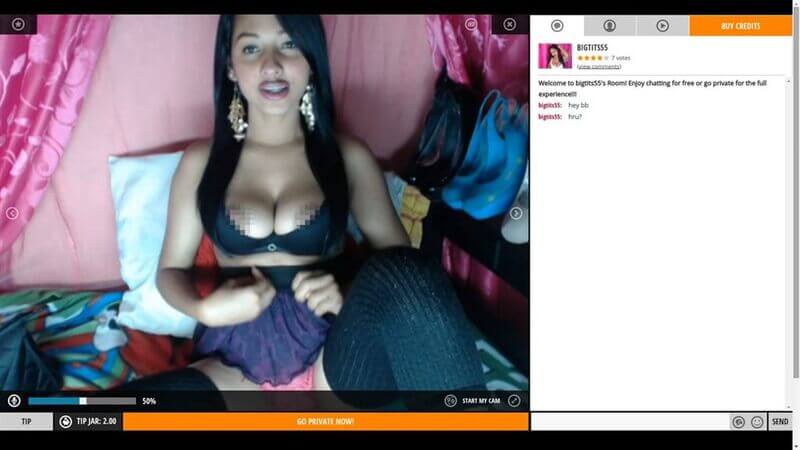 The Support You Can Get ...
There's a list of phone numbers you can ring if you hit a brick wall, and an email messaging system, but there's no live chat.
The Good & The Bad ...
Good
✔ - Lots of lovely sex cam girls. It's clear that the site just doesn't allow anyone to set up as a cam model.
✔ - The A-Z menu is a real boon if you have specific interests.
✔ - The webcams at Webcams.com are of spectacular quality, which is what it is all about, I guess!
Bad
✖ - Even if you stick around the free chat, it will still cost you a nominal fee per week to be a member
✖ - No flexibility in payment methods - it's credit cards and credit cards only
Winding Things Up ...
So what has Webcams.com got going for it? Well, for a start there's the guaranteed high quality of the lovely ladies displaying their wares on the guaranteed high quality of the sex cam streams, which, when you look at it, is what it is all about, really! If you want lots of little largely pointless extras, then we'll shake hands and we can go our separate ways. If you want red-hot sexy action with red-hot sexy babes, then Webcams.com is really where you need to be heading. You may not like the nominal weekly charge, but that all must contribute to the high quality of the Webcams.com servers. I'm okay with the charge, and virtually everything else I found at the site, and I hope that you will be too.
Review of Webcams.com
- Reviewed by
topratedcamsites.com