How To Start A 2-Way Video Show At Stripchat
Published
November 04, 2020
Stripchat is one of the most user-friendly live cam platforms around. It may be a freemium cam site, but you won't find an advert in sight at this no-holds barred party palace, where the action kicks off the moment the homepage loads. When it comes to opening your own webcam for some see-and-be-seen fun, Stripchat makes it easy, quick and safe. Read on to find out how to securely open your cam and enjoy some cam2cam fun with a hot cam girl that's looking for some 2-way live video chat.

If you want to enjoy some one-way live cam fun at Stripchat, you'll find around 3000 live video streams online 24/7. And, if you aren't that fussy about what you want to see taking place in front of you, the majority of the hosts perform free kinky shows in their open chat rooms, with tips fueling the action. However, if you want some 1on1 fun by opening your webcam, you'll have to invite the performer into a private chat mode.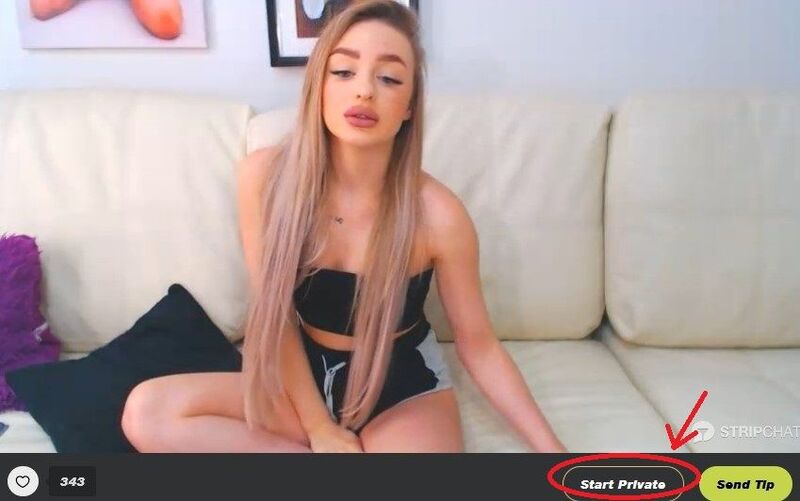 Once you find a room that strokes your interest so to speak, click on the photo and you'll enter the model's live chat room. Under the video window there are two tabs to choose from. But before you go any further make sure you've stocked up on some site tokens as the next steps require them.
To enter a cam-to-cam private show, simply click on the Start Private button as shown above. This brings up the option to either start a one-way cam show or a webcam-to-webcam session.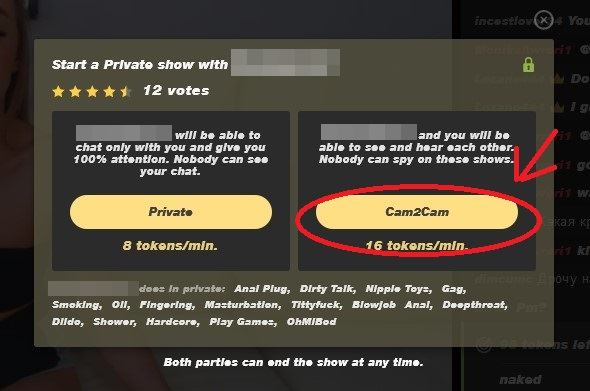 Some performers double their rates if you want to make it a cam2cam show while others don't charge extra. However, generally speaking, the ones that include 2-way cam usage in their advertised prices charge higher amounts from the get-go. Another issue to look out for is the minimum time spend required before a model will agree to go private.
On average, a private show comes in at around $3.00 a minute - but if you choose to make it a c2c show, expect to pay more - somewhere in the region of around $5.00 a minute. However, there are cheaper options. For example in the above image the model is asking just $1.50 a minute, a steal if you ask me.
Also, this host doesn't demand any minimum time and will start a cam-to-cam show without a prior commitment. Though, many will ask for at least 10 minutes up-front before they'll accept a private show invite. The only way you can find out if they have a minimum time request is to enter their room, click on the Start Private button and see if this is a criteria of theirs.
The first time you select the cam2cam show option, a pop-up window comes through asking permission for the site to use your microphone and webcam. You only have to do this once if you select the Remember This Decision option that appears (or whatever your browser asks for). The next time you start a cam2cam show the computer will automatically allow the site to access your cam. However, if you're chatting in a private incognito mode or don't select this, you'll need to select the Allow button each time.
Once you click on Allow, your webcam switches on and the show starts. You can see yourself on the screen in a small thumbnail image on the bottom left of the video window. In the image below it appears as a grey screen. This is my doing 'cause I really didn't think anyone wants to see what I get up to in a private show with a hot blonde girl.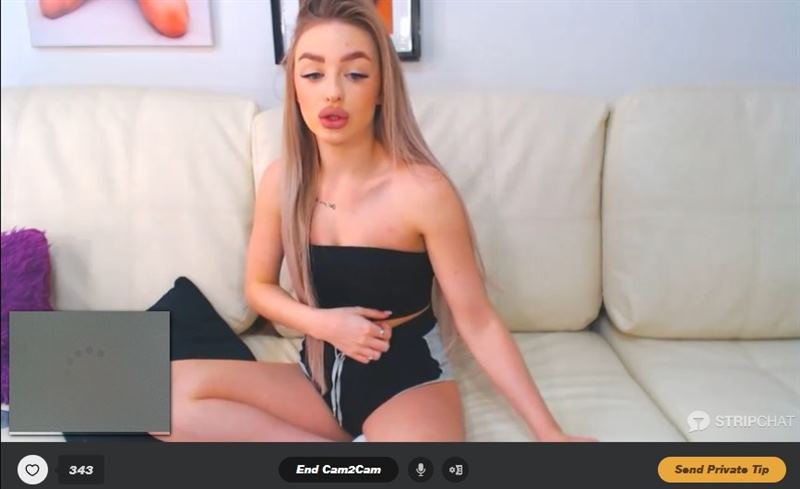 And that, ladies and gentlemen is all it takes to start a c2c show at Stripchat. When you're ready to end the show, all you have to do is politely bid your cam pal adieu and press the End Cam2Cam show button. Don't forget too that if you run out of tokens, the show will automatically end, so make sure you've got enough in your account to cover the amount of time you're planning to spend in a private party with the gorgeous gal.
---
Conclusion
Stripchat makes it extremely easy, safe and secure to start a private cam show. They also offer a little something extra that can make your exclusive fun and games with a hot babe last forever. Many of the rooms offer free recordable shows. You can search for these cam rooms using the left menu bar on the homepage. When you scroll down the menu you'll come to a category called Private Shows where there's an option to view all the rooms offering Recordable Privates. These girls let you record their show for free and store a copy of it in your Stripchat account where you can access the recorded webcam performance and watch it as often as you like at no extra cost.
All in all, you can find some extremely low-cost HD cam2cam shows at Stripchat, and more than that - you don't need to jump through hoops in order to get your webcam synced at the site. What more can I say, except to give it a try and let me know what you think.