TrannyCamModels.com - Hunting For Tranny Sex action? Hunt No Further!
Hello sweeties! It's your top buddy from the top rated cam site about Top Rated Cams Sites, Tom! As you're here again (or perhaps for the first time - if so, then a big HELLO to you) you must be after another wonderful review from yours truly about a tranny cam site. Is old tit loving Tom going to provide? Of course he is, silly! The site I am reviewing for you today is called TrannyCamModels.com, not to be confused with MyTrannyCams.com of course! Let's ... get ... it .... on!
The bad news this is another of those clone deals, where TrannyCamModels is "just" a stripped down version of another site. The good news is this other site is Cams2Chat.com, which is one of the few cam sites that tired old Tom here hasn't got around to reviewing just yet. I may get around to it one day, if I can tear myself away from all these super sexy cam sites I keep finding. Both these sites are owned by a company in Las Vegas called Labuyo. TrannyCamModels has been around since 2006 as a tranny cam models site, and used to owned by some dudes also from Las Vegas called Interactive Management Systems, but Labuyo took it over some time in 2014. Now, on with the (tranny sex) show!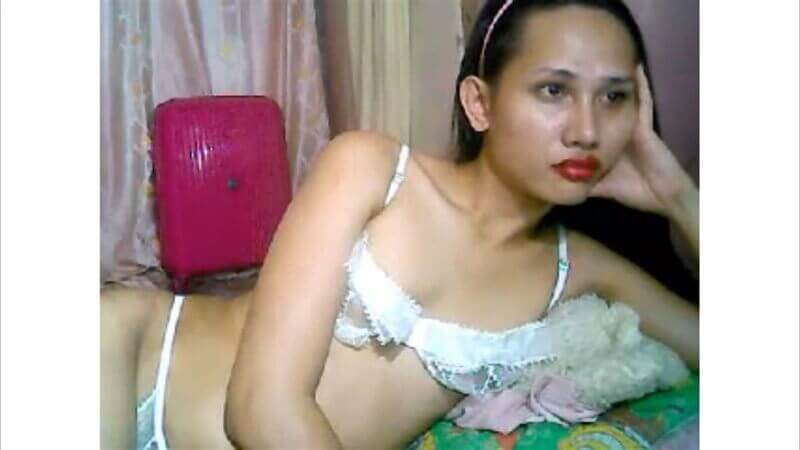 My Initial Thoughts ...
So, what's cooking at TrannyCamModels.com? If you get a slight whiff of Soy Sauce, that's because the lovely models here are definitely mainly Asian in origin. Each cam thumbnail has a little flag which is supposed to tell you where your chosen cam model is from, but most of them have it set to USA. It turns out that nearly all the cam shemales I chatted with are from the Philippines. It's a good job they put the USA flag as I haven't got a scooby doo what the Philippines flag looks like!
I really like the design of the site, especially the colour scheme! It's pinks and blues against a tasty black background - lovely! As well as that lovely little flag I mentioned, each cam has the cam model's name and whether they can stream in HD or not. You can select your free chat options or view the model's profile for full details or any pics or videos they have uploaded (some are free, some are not!). The sneaky cam view works as well at this site, I am pleased to tell you. The menu along the top isn't too useful - just options to view the full list of adult chat performers, and any favourites you have saved. You can also see your own profile, and any messages (you can send messages to the models who are offline if you are a member). You can also access the FAQs and the "Contact Us" page.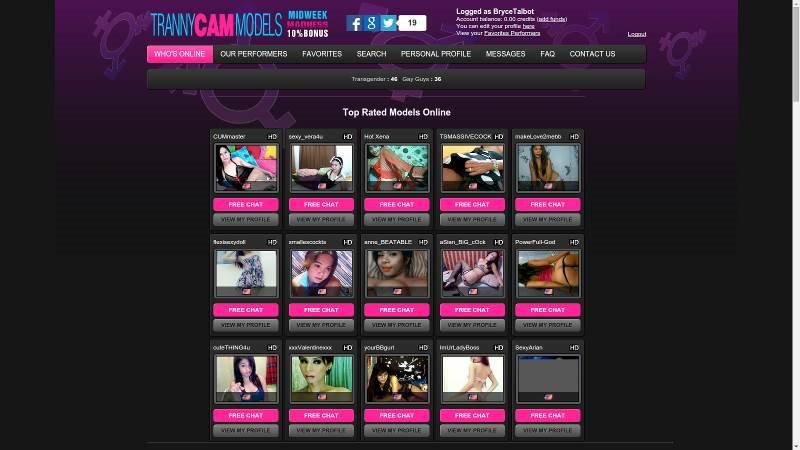 And that's about all I can tell you! Like a lot of these shemale sex sites, TrannyCamModels.com doesn't really go in for extras. I'm finding this a common theme the more ladyboy porn cams I view. Don't ladyboy lovers love lusty l'addtions? Pardon moi francais!
Those Extra Features ...
Weren't you listening?
How To Register ...
If you're a member of that other site I mentioned, then very very probably you're a member of TrannyCamModels.com without you even knowing it! For the rest of us, just click on the "Registration" button in the menu and get set. You need your username, a valid email address, your screen name and to confirm your gender (for some silly reason). Fill everything out, confirm you've seen the T&Cs, then click the big button. All you then need to do is click on the activation email you will be sent.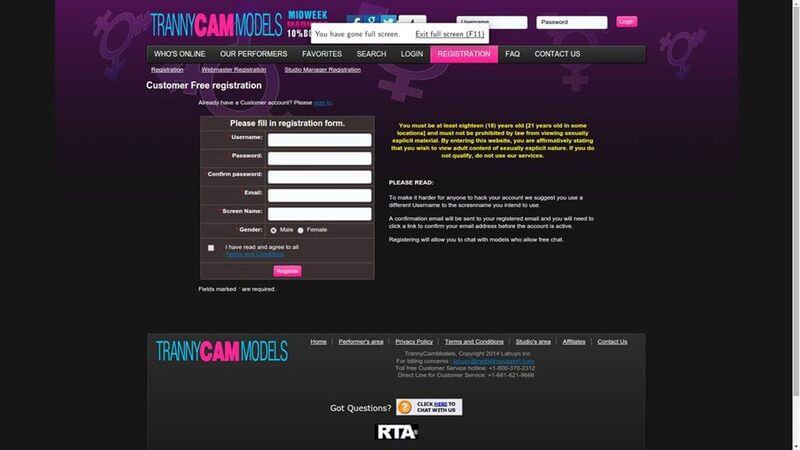 The Ways You Can Chat ...
You can free chat, but free chat has a maximum time of one-hour per model. I'm not sure if that's one hour per model per membership, but I wasn't going to stay yapping away all that time to find out! You can't hop out then hop back in to reset the clock - I tried it and it didn't work! There are only two other options: Group Chat and Private Chat. Both cost the same at the cheap-as-chips price of one credit a minute! Most of the time you're the only punter in the room anyway, so Group and Private don't make a lot of difference.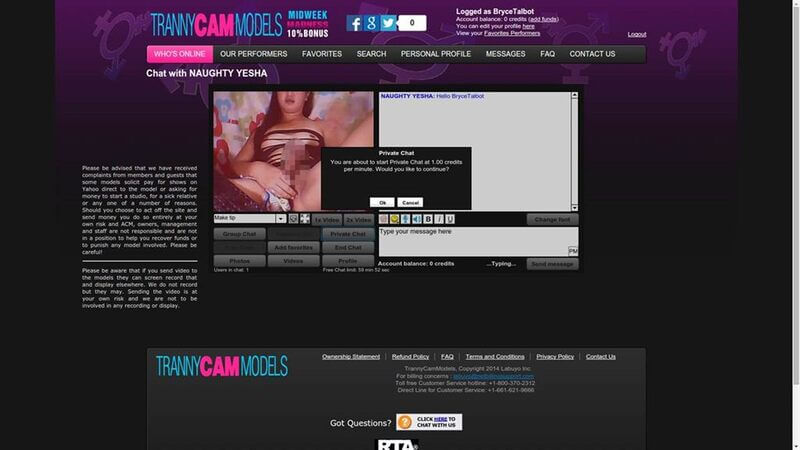 Quality of The Videos ...
It's a little hit and miss, to be honest. Even the HD is a bit grainy, and not super smooth as I have become used to at the likes of LiveJasmin.com. The SD isn't great, and if you go fuil screen your PC can struggle a bit, unless you have a super computer, of course!
How Much It'll Cost You ...
Not much at all! You can buy packs of 25, 50 or 100 credits for $25, $50 and $100, plus you get a 10 percent bonus with every purchase - coolio! ALL chat is at the set price of 1 credit per minute! Boy, that is cheap!!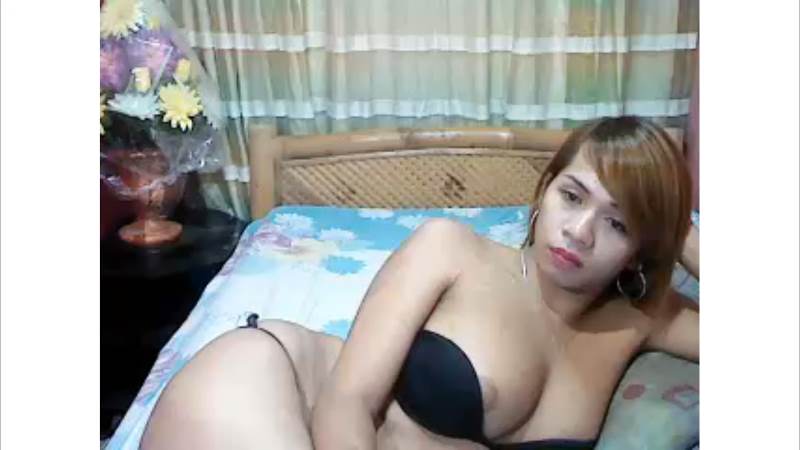 The Ways You Can Pay ...
Only plastic I am afraid :( - although if you are in the US you can pay by Western Union. You can also pay by wire transfer, but that sounds like too much effort to me!
How Many Models ...
I counted up a grand total of 1,000 active profiles. I also counted 61 models online when I did, and this seems a nicely accurate estimate of how many models are around whenever you log on.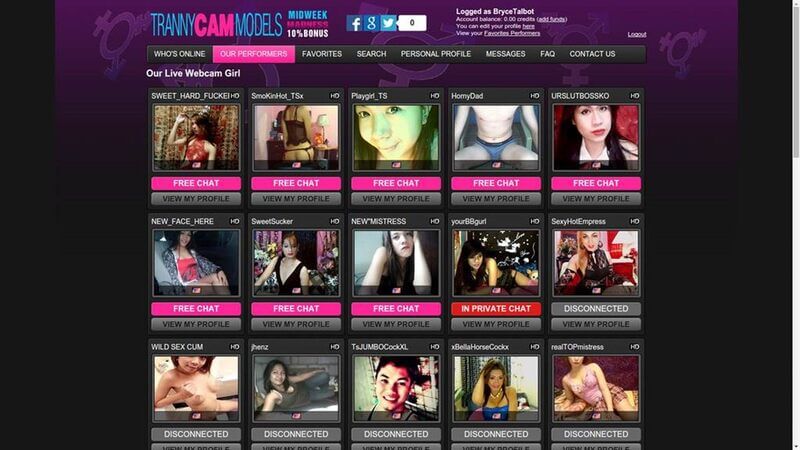 The Support You Can Get ...
Hmm, not too good I'm afraid. Only a contact form, email address or live chat. I tried the live chat but no one wanted to talk to me.
The Good & The Bad ...
Good
✔ - All non-free chat is at the bargain price of $0.10 a minute!
✔ - A very good selection of models, although they are mainly Asian in origin (not that this is a problem!).
✔ - Very nice and polite models who are very friendly.
Bad
✖ - Tut! Yet another tranny cams site that hasn't gone overboard on extra features.
✖ - Because of the low price (I think) the models are desperate for you to go private, so they can get their privates out!
✖ - Have someone manning the live chat applet seems a good idea to me!
Winding Things Up ...
Oh, TrannyCamModels.com definitely gets the thumbs up from yours truly. I am a very chatty person, and I loved to chat to the shemales at the site. I did feel a little guilty as personally, everything below the waist when it comes to transsexuals is not of interest to me! Of course, if you are reading this review then you probably have a very different point of view, and of course that is fine! I suggest you go exploring at TrannyCamModels.com, especially if Asian shemales are definitely your thing. I guarantee you will not be disappointed!
Review of TrannyCamModels.com
- Reviewed by
topratedcamsites.com