LiveAsianWebcams.com - Sign Up For Lots of Asian Goodness!
Well, this happened: At the end of 2019, LiveAsianWebcams.com became SakuraLive.com. Read our full review of SakuraLive, here.
OMG! It's me again, tit-loving Tom, the top rated cam site reviewer. And how are you this fine evening? I've got a lovely bottle of red wine to look forwards to and a curl-up with a good book (one of the joys of being a single dude) but before I do, I have another site to review for all you Asian sex cam babe lovers. The site I'm going to be yapping on about is LiveAsianWebCams.com. Not much mystery about what that domain name is about, then!
So, as you might expect, LiveAsianWebCams.com brings you the best in live Asian porn cam models, right to your laptop screen. It's run by a Californian company, and the domain has been around since 2009, but the site itself only got itself up and running mid-way through 2011. They must have liked how things turned out, as they haven't changed it since!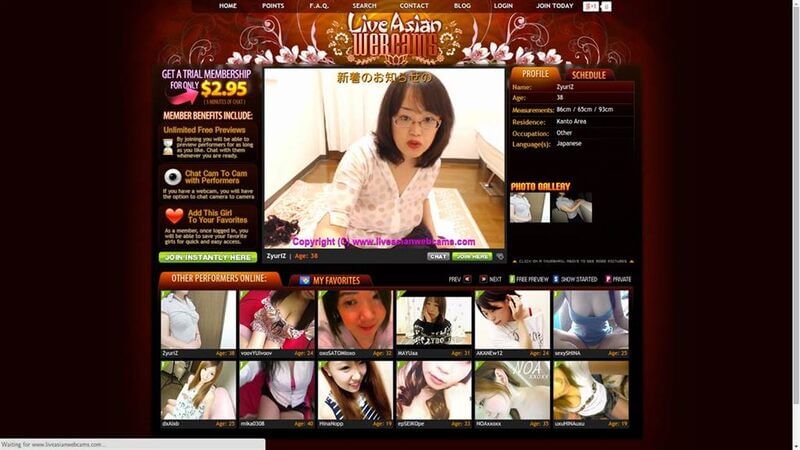 My Initial Thoughts ...
My initial thought was "OMG!" because you get a very nice welcome indeed to the site, with a well sexy Asian lady asking if you are over 18 (well ... kind of). Her gown just reveals enough to tempt you inside.
Once inside the pleasure continues. The site looks really nice - one of the best-looking sites I've seen so far in my pornographic trips around the sinful side of the world wide web. I did wonder if all that finery was designed to disguise a lack of something, and, well ... yes, kind of, as there's not a lot to the site aside from the cams and the lovely Asian ladies who perform in front of them. There's definitely not a lot to the site if you're not prepared to register - you can view the cams as a freeloader, but you can't chat, and the free peek curtails after a minute or so ... hmmm ...
The menu screen is fairly typical of an adult cam chat site, although the thumbnails are not exactly a mine of information - just the type of chat any particular model is currently engaged in, and her performer name and age. There's nothing happening if you try the "mouse hover" tactic here.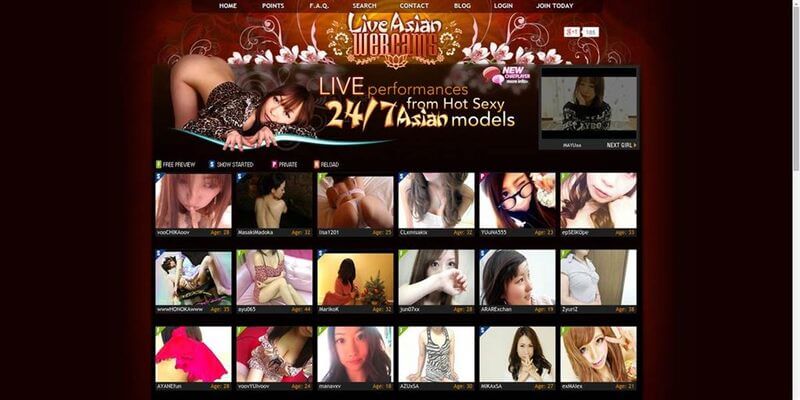 There's a menu across the top, but it is not very enlightening. There are options to login and sign up, and to buy "points" which is what LiveAsianWebCams.com calls credits. There's also support options available and access to some FAQs which tell porkies. You can search models based on age, breast (!), appearance and misc (toys, new girls or "have microphone"). Finally there's a blog that doesn't work.
There's also a bit of content stuffing which those Google webcrawlers won't find appetising! The cam rooms themselves have profile information (which is not that illuminating) and a small photo gallery. You only get the true goodness of the cams if you sign up, and one annoying oddity - the chatting is done in a pop up! Not seen this before at a sex cam site, and I'm not altogether in favour of it!
Those extra features ...
... are available when you register, like actually being able to chat to the Asian cam girls! All cam restrictions are lifted when you sign up, and you can chat cam-to-cam with the performers, and create a favourites list.
How To Register ...
The first step is as you'd expect - username, password, email address. Unfortunately you then have a massive hurdle to negotiate in that you can only sign up for the site if you register a credit card. You do have to fill all your info in, and your reward is a $2.95 charge and a full five minutes of chat.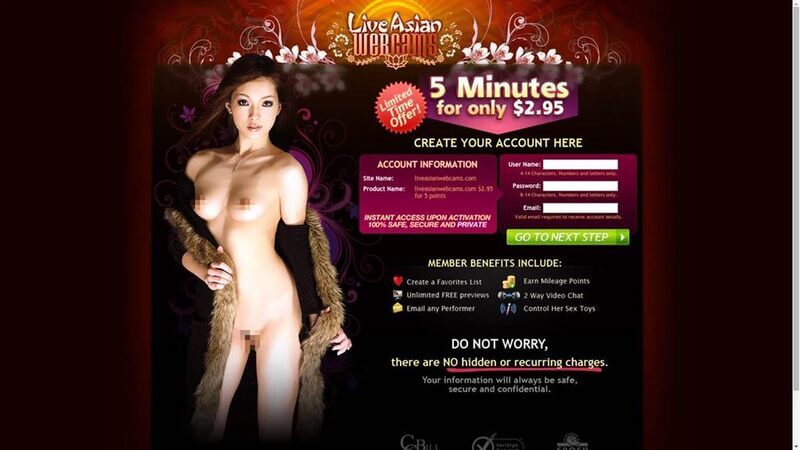 The Ways You Can Chat ...
There's "free" chat of course if you're a registered member, and a few other chat options. It's one point per minute for chat - which I think is "free chat" as it would be called on other sites. Paying for free chat? Exclusive chat is double the price (a point costs between $1.80 and $2.50 - the more you buy the cheaper they are). The performer can send you private messages, but it costs one point to receive them. You can also control the model's sex toy if she has one for an additional two points per minute, and there's "Bukkake" for "1.5 point per use" ... the mind boggles at how that works - do you post your semen to the model ... ? How odd ...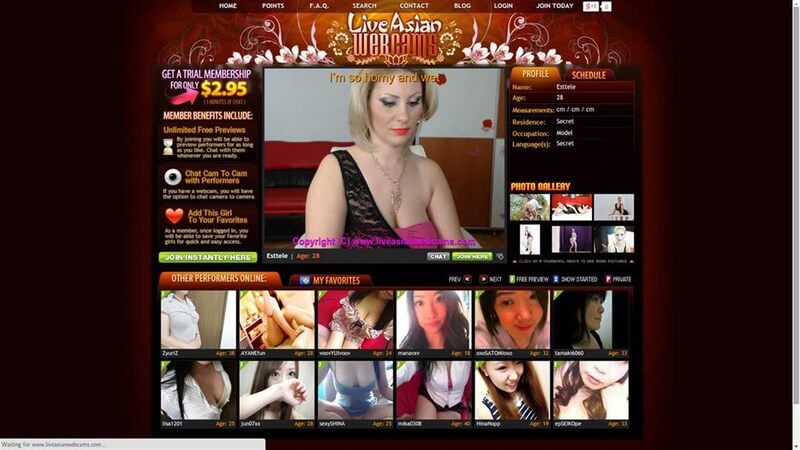 Quality of The Videos ...
From what I've seen, they seem very good. Nice and clean and smooth. There's zero indication of HD, but some of the streams did look HD to me.
How Much It'll Cost You ...
Between $1.80 and $2.50 a point - the site doesn't say how much the bulk bundles are, which again is very odd. I guess that's another bonus for registered members!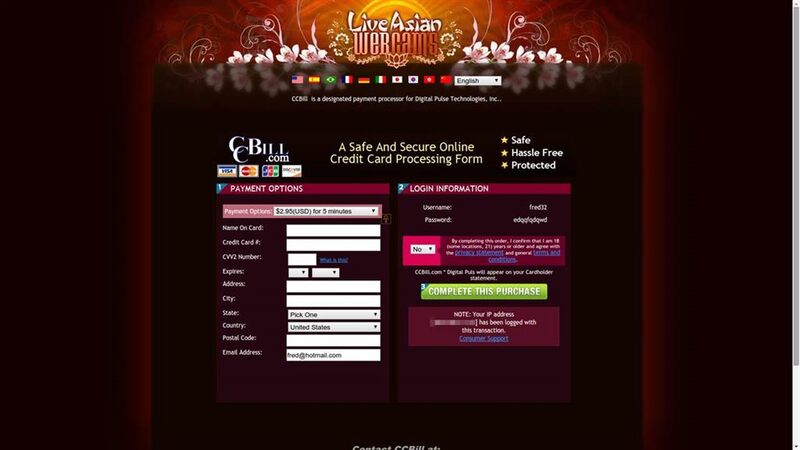 The Ways You Can Pay ...
The usual plastic pals Mastercard, Visa, JCB and Discover, and that's your lot!
How Many Models ...
There are over 2,000 models registered at the site, and you'll usually find 100+ online whenever your carnal interests take you to LiveAsianWebCams.com.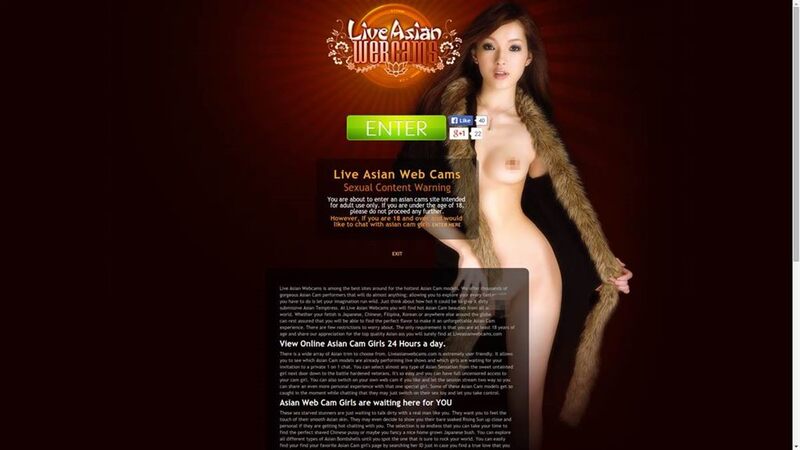 The Support You Can Get ...
... is lacking, and the fact that site's blog doesn't work is not a good sign. The only contact option is a contact web from. No live chat, no phone numbers, and not even an email address.
The Good & The Bad ...
Good
✔ - Good quality cams and good quality cam models
✔ - At about $3-$4 a minute for 1-on-1 chat, it's at the less expensive end of the market
✔ - Nicely designed site - and available in several languages
Bad
✖ - There doesn't seem to be anything like "free chat" here
✖ - You can't become a full member unless you register a credit card
✖ - Website blunders and poor support options
Winding Things Up ...
I'm not really sure about what I think of LiveAsianWebCams. The site has been put together well, but then it's just been left a little to stagnate. The chat options are confusing and if there's genuinely no such thing as free chat, then that would put me off a site pretty damn quickly. I'm not enthused about the lack of support options, either, to be frank.
There are plenty of lovely Asian sex cam babes on here, and the cam quality is fine, so if you don't mind registering your credit card, and you don't mind the negative points I've listed, I'm sure you're likely to have a very groovy time at LiveAsianWebCams.com! Bon Voyage! Red wine here I come!
Review of LiveAsianWebcams.com
- Reviewed by
topratedcamsites.com