Find a Sexy Fling with This Fling.com Review
Sit tight and listen up because I have worked hard on this Fling.com review and it's intriguing. Now as you all know I believe that people worldwide deserve to enjoy webcam sex as well as causal hookups and Fling is a sex dating site that offers plenty of both. Although it has a very cool name, which someone must have paid quite a bit to own, this is not a particularly ancient hookup community and it feels fresh. This doesn't mean that it's not a well-made of professional portal though and there are millions of registered members that would tell you that this is their number one choice.
Let's not waste any more time on introductions though – there is plenty to see and a lot of information I want to share with you. Read my complete Fling.com review (feel free to skip anything you already know) and then conclude if this is the adult dating service you've been looking for.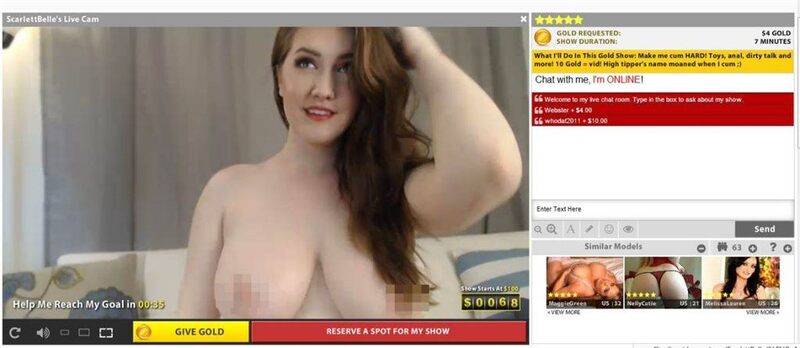 My Initial Thoughts...
I love the design of Fling.com. It's a mess, but in a good way. Most adult dating sites look almost too professional – too polished and everything is clean and tidy and the images look like they were taken in some studio. Fling though is a whole different story. Even before you register you catch glimpses of some of the hot singles and couples inside and if those changing pics aren't enough to intrigue you, well, you must be stronger than I. So, as you imagine, I was already excited when I entered the site and the same casual, sexy messiness continued. There are loads of options, a big variety of categories and the real challenge is figuring out where to start from.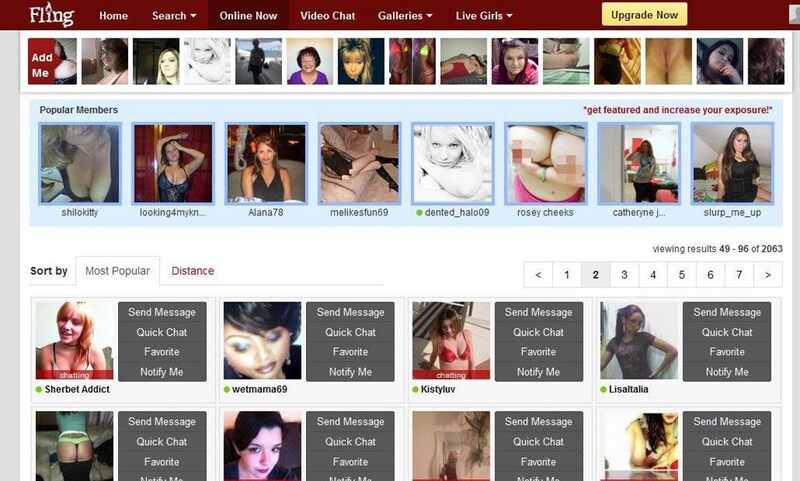 I started from the live chat rooms, as you would have guessed, and was promptly impressed by their number, originality and variety. It's also amazing that the site feels almost swarming with people – sending flirts and teasing and posting pics, there's really no end to it, so it's more of a community than an old-fashion dating service.
Those Extra Features...
I like features, although I don't feel that they are crucial to a success of an adult dating site, and when I did the research for this Fling.com review, I expected to find plenty of them. In reality though Fling is pretty average in term of features – not that it's lacking the one you need to communicate, to set up date or even to chat, but nothing that will wow you in any way.
How To Register...
Signing up to Fling.com is fast – even finding your first hookup on this sex dating community, which is as quick as it gets. All you'll need to do is choose a nickname, password and list an actual email and you'll become an official member – free members anyway.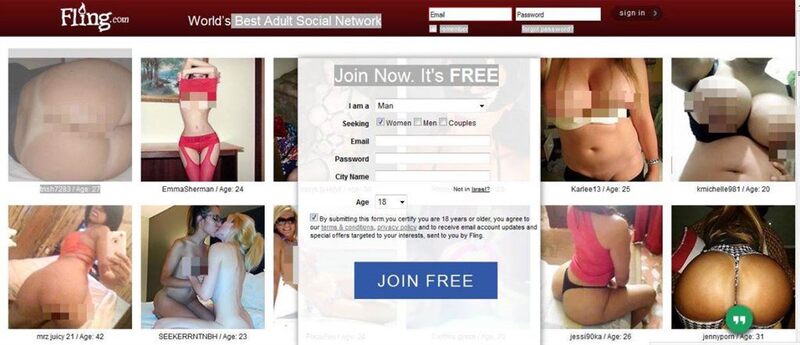 The Ways You Can Chat ...
This is a great time to mention FlingLiveGirls – the first type of live sex chat rooms available on Fling. The women you'll find on this section are professional webcam models that perform live and they are gorgeous, sweet and shameless, which is exactly how I like them. Next there are the member chat rooms which are divided to weird, yet sexy, categories with some crazy names. Take a look, see who's online and pick the niche you prefer. There're always plenty of sex chat partners ready to show off.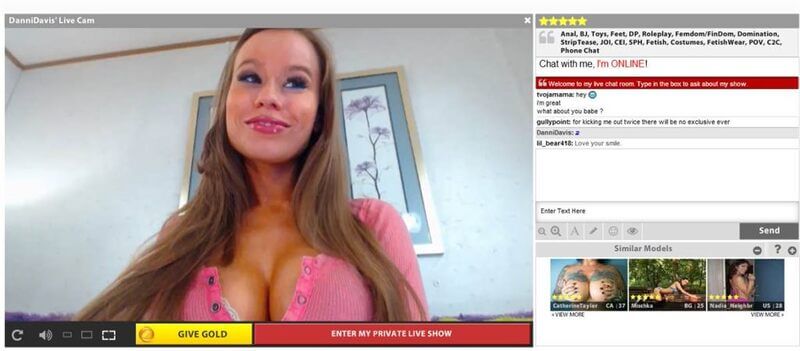 Quality of The Videos...
I've had a few live sex chats on this website, just to test the water, and I was very happy with them all. The amateur cams are of course less planned, but they can get extremely kinky, and the babes are hot. The camgirl chat rooms are wonderful – premium sex chats with props and outfits, and there are enough of them to ensure than any guy will find plenty of options.
How Much It'll Cost You...
Now we come to the section of my Fling.com review that I bet interests you the most. Price is an important aspect of any adult dating site and luckily in this case I can tell you that you'll most likely be surprised for the best, There are two types of membership on Fling: Silver and Gold, and each has its own benefits. The silver membership costs $24.95 for 1 month or $99.95 per year and it offers access to any part of the site that you need to find sex dates or to chat. Still, I think you ought to consider upgrading to Gold and here is why: The 2 day trial costs only $1, the 1 month costs $34.95 and you get 18 months for the low sum of $119.95 which is even cheaper than the silver membership, when calculating cost per month.
The Ways You Can Pay...
You can pay on Fling.com using Visa, MasterCard and other major credits. Some countries can also pay by phone.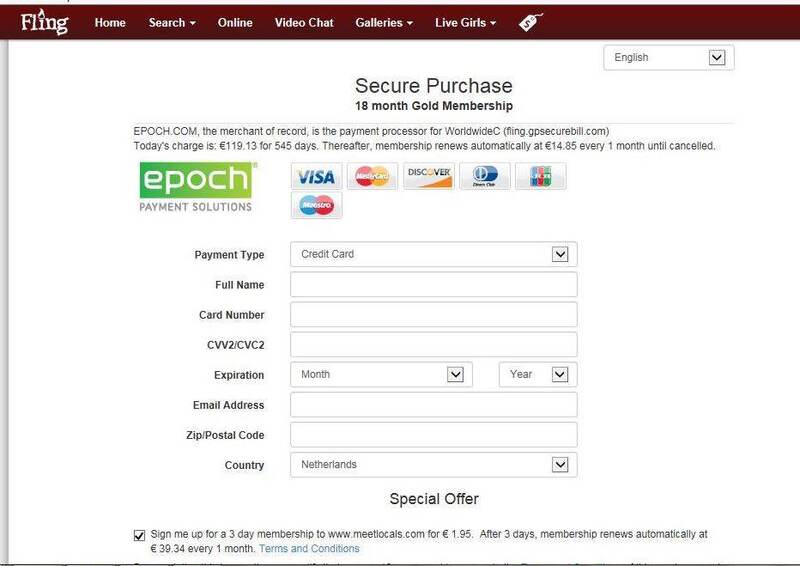 How Many Sexy Singles...
The number of sexy singles changes of course, according to the location you reside in. There are millions of registered members throughout the world, although most are definitely from North America and Europe, but the real question is: Are you looking for an actual one night stand / casual sexual relationship or are you just looking for webcam sex? If it's the first, then the number of available partners can be anything from a few dozens to thousands – again, depending on where you're from. If you're looking for webcam sex, there are thousands of options – both models and amateurs, so it's really up to you.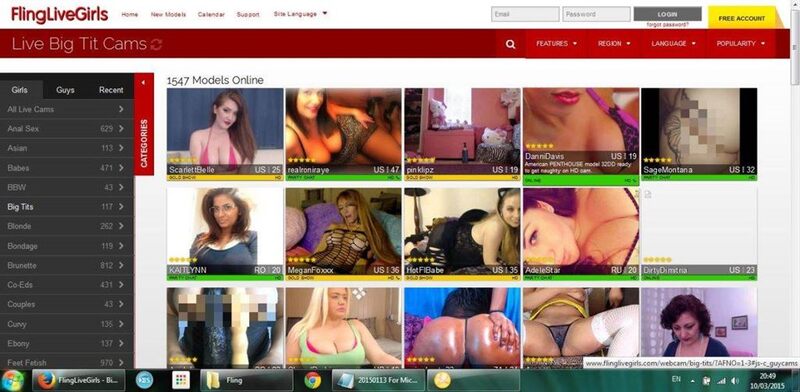 The Support You Can Get...
There's a Help link at the bottom of the page and it will lead you to both the FAQ and the Customer Support.
The Good & The bad...
Good
✔- The live sex shows are real naughty
✔- There are many pics and vids of members
✔- There's a very high number of hot singles and swingers
Bad
✖- Not all that many special features
✖- It's hard to predict the quality of the webcam chat rooms – it varies a lot
✖- It might take you awhile to figure out how things work and how to find things
Winding Things Up...
I certainly hope that the main message you received from this Fling.com review is that this is a sex dating site that you should check out. I am not saying it's perfect, and I for one would be delighted to see a few more communication and social features, but I do think it gives great value for money and has plenty of sex chat rooms. My recommendation would be to use the free membership to get a better impression of the site. Contract your profile page, spend some time browsing and draw your own conclusions before figuring out if you need to upgrade.
Review of Fling.com
- Reviewed by
topratedcamsites.com