The Live Gay Webcams on CamWithHim.com are Sexy, but Pricey
I used to consider CamWithHim a top rated cam site, but not anymore. Recent checks have shown that there are never any models online. I'm not going to recommend you go to them, it's a huge waste of time. You need a big selection if you want to enjoy yourself. So where you should you go? Read my CameraBoys review to find out about the top rated gay chat site.
Finding a quality gay webcam site is not always easy. Don't get me wrong: There are loads of gay chat rooms around, but most are the really basic amateur cam communities where the images are grainy and the guys are average-looking at best – and sometime well below average. This is perhaps why I've been getting so many emails asking me about CamWithHim.com. This is definitely not an amateur webcam site – the homosexual studs here could easily perform in hardcore movies – the real one, you actually pay for. However, I hope you know that the hotness of the guys is not the only thing that matters when choosing an adult webcam site and there are many other factors that play a role: Price, number of live gay chat rooms, feature selection and even seemingly more trivial aspects such as support. Not to worry: Your pal Tom is here to help. Find answers to all your questions in this CamWithHim review and you will see that I didn't leave anything out.
My Initial Thoughts...
As I just said, most gay web cam sites are not always especially professional, so I was mighty impressed when I entered CamWithHim.com for the first time and laid my eyes on the horny studs. The word that comes to mind is "yum" and even thinking of those gorgeous buff men and sweet handsome guys makes me wanna lick my lips. I was about to jump in and have my first free chat when I ran into the first obstacle. This adult webcam site doesn't offer free chat as I know it. You cannot see the men who perform here before you pay. You can text then (I guess that's why the site refers to this as 'a free chat'), but you can't see anything except a picture. Well, that was disappointing, but loyal to my readers and committed to my mission of completing this CamWithHim review, I bought some credits and then paused for a minute to choose a new live chat partner. Another obstacle: There were only six men online. What is going on here? Indeed, the live gays on this website might be as hot as freshly baked buns, but there are less than 10 online at any given time – another huge disappointment.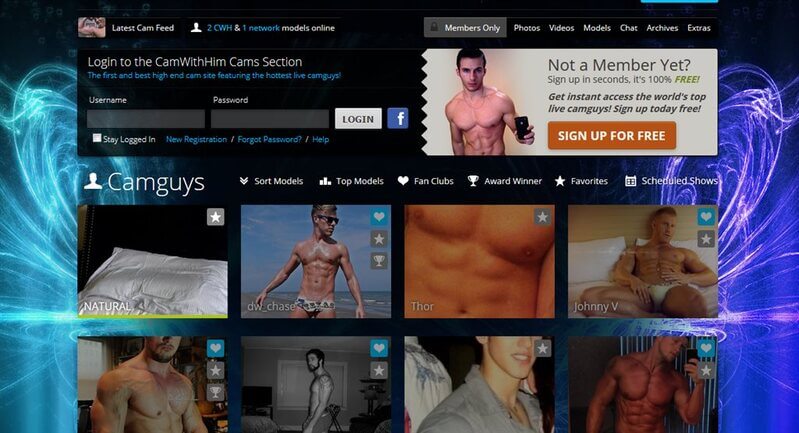 I wasn't too happy, but the guy I chatted with made me forget my worries at once. I actually thought that I was having a private chat with him because – wait for it – the site calls it a 'private' chat, but as it turns out, private chat on Cam With Him isn't private – it's a group show. What is 'private' chat called? VIP – and please don't ask me why this is. I report, I don't explain motives and I am not sure that there is a concise answer. Just remember the terms before you start chatting, because it's quite important to know what you're actually paying for, at least that's what I think.
Those Extra Features...
Although Cam With Him is indeed a professional site, most of its features are not really inspiring. What do I mean by that? I can hardly explain it. You can use Cam2Cam and there's a forum and a blog and audio chats – but the only feature, if you can call it a feature, that's worth mentioning is the video archive. This is a great resource for gay porn videos in a variety of lengths, styles and intensities. Great stuff, but hardly a substitute for the live webcams.
How To Register...
The process of registering to CamWithHim.com is long, hard and complicated... nah, I'm messing with you. It takes no more than a minute and you can do it while playing Solitaire. Just pick a name, password and fill in your email. That is it – you are a free member. Wants to upgrade your membership? Choose a plan, fill in payment details and you're done with that as well.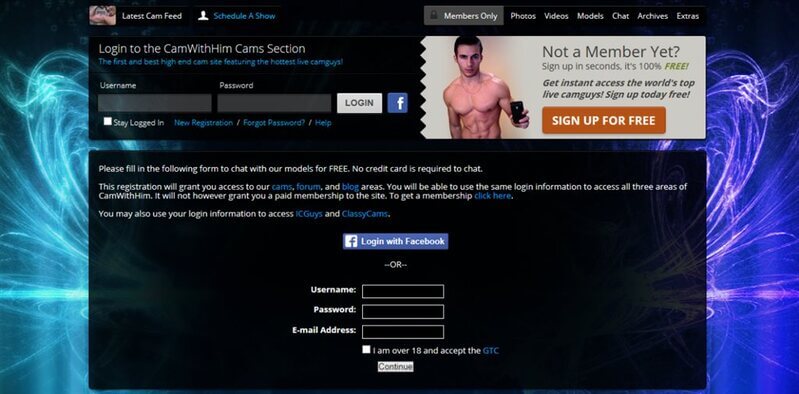 The Ways You Can Chat...
Okay, let's talk about the chats on this gay webcam site for a moment. As I am sure I mentioned before in this CamWithHim review, private chat here isn't private at all, but a group show, while VIP is the site's terminology for 1-on-1 sessions. Also note that as I said earlier, free chat does not enable users to actually see the man they are chatting with, which is very annoying because it seriously impairs with your ability to make informed decision. Instead, you have to rely on a photo and hope that the sexy homosexual guy looks the same in real-life.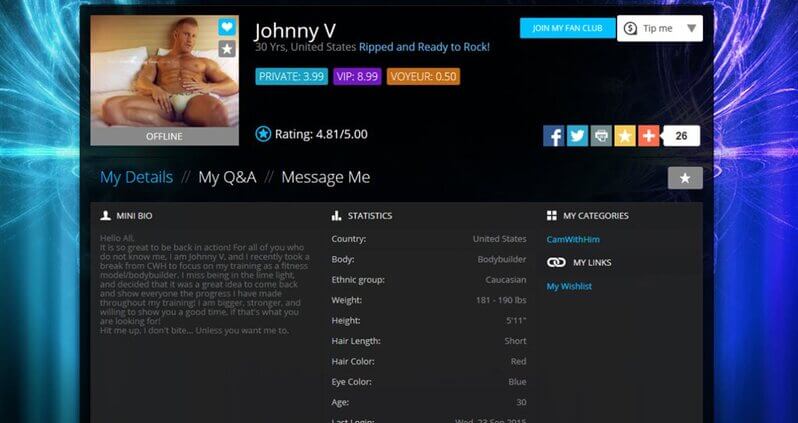 Quality of The Videos...
Both the porn vids and the live porn shows here look amazing, and I have watched more than a few. Again, this proves that CamWithHim.com is a professional site, not some base for amateurs who perform from home with the cheapest web camera they could get their hands on. The shows here feel like porn movies, only you direct them, star in them and have full control over the script.
How Much It'll Cost You...
As I am sure you figured out by now, there isn't much you can do on CamWithHim.com without paying – not even free video chat that you would get on other adult webcam sites like Supermen.com (what a name, right?) and CameraBoys.com. When you do buy credits though, make sure you buy a bundle, because as you will quickly see, this is not a cheap gay cam site. 'Private' chats, which are actually group shows cost around 5 credits per minute – on average of course, there's a range and VIP chats – the real 1-on-1 cost about 7 credits per minute on average and spy cams are between 4 and 5, on average.
I have made a chart to feature the credit packages that you will find on CamWithHim.com, but if you want a quick summary, here it is: Cost is either $1 or €1 per credit, depending on how you pay. There's no discount for buying more credits.
| | | |
| --- | --- | --- |
| How Many Credits | Cost in USD | Cost is Euro |
| 10 | $10 | €10 |
| 20 | $20 | €20 |
| 50 | $50 | €50 |
| 100 | $100 | €100 |
| 150 | $150 | €150 |
| 200 | $200 | €200 |
| 250 | $250 | €250 |
There is of course free membership, but the paid one is ought to be considered if you actually chat often and like the gay videos. It includes 20% discount on sex chats and access to XXX content that will last you for a very long time, including bonus adult sites. There is a popular 30 day subscription which is reoccurring: It costs $24.99 and if you prefer the nonrecurring, it's $27.99. 90 days will cost you $59.99 and the longest subscription – 180 days – costs $99.99.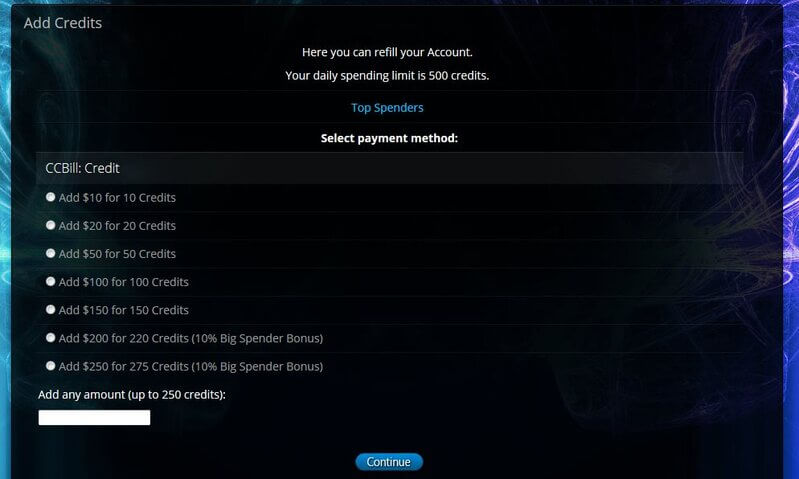 The Ways You Can Pay...
You can purchase credits on this homosexual sexchat community by using one of several payment options. CamWithHim.com works with credits cards, obviously, and you can choose between Visa, MasterCard, Discover and Diners Club. Alternative payment methods include E-check, EU direct pay, PayPal and Bitcoin. The site uses a familiar and reliable payment processor.
How Many Models...
The truth is that there is an elephant in the room and that is the low number of gay cam models. I've counted around 100 stunning guys on this small yet quality premium and they are all spectacularly hot. The men here have perfect bodies, sculptured asses and large equipment which they are happy to display on live cam. As far as online chat rooms are concerned, the number is much lower. You will only find between four and eight live gays, which is, I am sure I don't need to tell you, is not really a choice.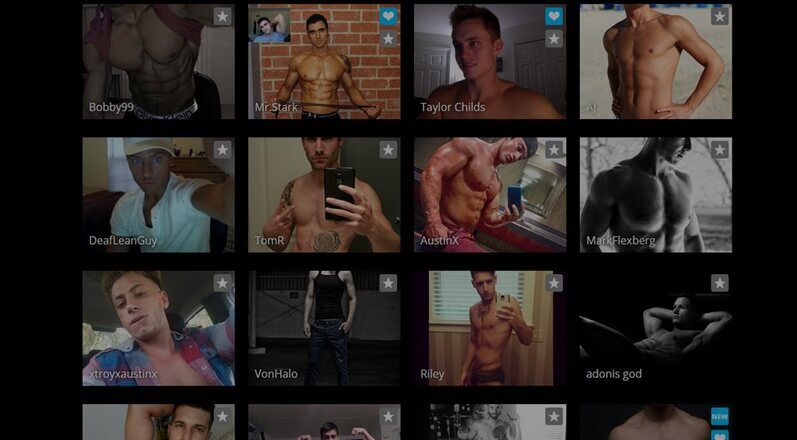 The Support You Can Get...
If you are not yet logged in, you will see a small Help tab at the top and can use it to locate the FAQ page. If you need a more substantial support, scroll to the bottom and follow the Support tab. It leads to a page where members can 'submit a ticket' – AKA a help request. There is no live support, which is a pity.
The Good & The Bad...
Good
✔- All the guys are gorgeous
✔- The gay porn shows are very hot and wild
✔- The forum and blog are cute additions
Bad
✖- Sex chats are not cheap
✖- Most of the sexy gays will not be online
Winding Things Up...
There is no one who can doubt that this gay webcam arena has a lot to offer as far as content is concerned. With a large choice of homosexual porn videos, mouthwatering pics of the horny studs and recorded sex cam shows, this is an ideal resource for guys who enjoy premium gay porn and want to be able to actually meet the 'stars' they see in those movies. As far as a webcam site though… well, this CamWithHim review has covered the main points: Prices are a bit high, there are not enough guys on live webcams and you can't watch the man you're texting with during free chat. Are the hunks here so lovely and the content so plentiful that you can overlook the site's disadvantages? I can't make the decision for you. Visit this gay chat hub, right now, and figure it out.
Review of CamWithHim.com
- Reviewed by
topratedcamsites.com