CamWithHer is a Sexy, Sassy and Awfully Small SexChat Site
When I originally wrote this review, I referred to CamWithHer as a small community. Well, that community has become smaller. With less than 10 models online, I don't even consider them a real site anymore. Don't waste your time on a site that even models don't like.
If you want to see what a adult chat site should look like, read my LiveJasmin review.
Hallo folks! I have got some major plans for you today, so I hope you're feeling the excitement. We will discuss an interesting, yet small, sexcam community called CamWithHer.com and I intend tell you everything I know about it – and I know quite a bit. I am here to shed some light on all those facts that adult webcam sites usually keep a bit hidden. I will tell you how much the different types of sex chats cost, will walk you through the leading webcam features and will even tell you how many camgirls you can usually find online. I will do my best to help you spend less and get more – this is what I'm here for. Start reading the results of my long, hard research below and you'll see I didn't leave any stone unturned.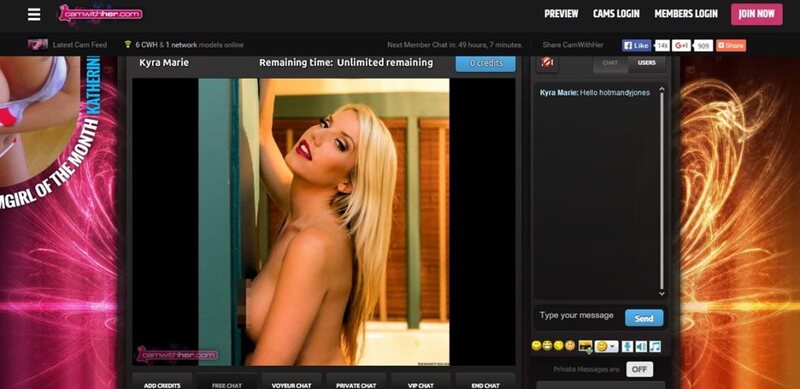 My Initial Thoughts ...
CamWithHer struck me as a reasonably-sized website when I visited it for the first time. I mean, it was clear it wasn't gigantic, but it looked as if there were like 90 or so webcam models online. I was even enchanted by their beauty, thinking to myself that if this was a sample of what this sexcam service has to offer, then I might not mind that it was smaller than some of the other player in the industry. On a closer look though, I realized that most of the gorgeous camgirls were not even online. I have been misled. On my first visit I only found six models waiting to chat and on further visits the figure didn't change much. It did drop to three live chat rooms at one point, which was almost amusing. How can you have a sexcam site without live sexcams? This made me sad, because my genera good opinion of CamWithHer.com hasn't changed much: I still liked the camgirls and the platform, I just wanted more babes.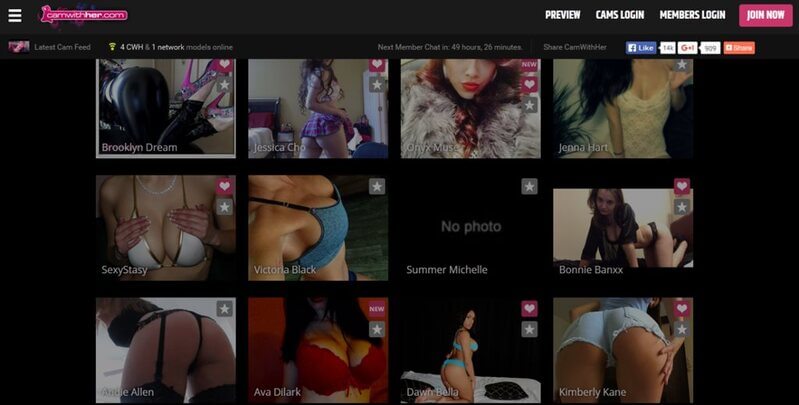 The webcam models on this site are not your typical camgirl material. These babes look like they could be staring in adult movies and for what I know – they do. Hey, maybe that's why so few of them are online. These chicks certainly take their performance seriously and they do whatever is in their ability (and that's quite a bit) to entertain users – assuming that they're paying.
The navigation was very simple and it didn't take me long to get the hang of the features and search. There was some initial confusion because private chat on CamWithHer is not actually private, but a group show, but once I got over that, the rest was lovely.
Those Extra Features...
The major attraction on CamWithHer.com is the videos. There are recorded sex shows, amateur sex videos, adult videos and members who choose to pay for a subscription also receive access to a bunch of bonus porn sites. Each camgirl has some pics on her profile, if you feel like checking them out, and there are also fan clubs, with various costs, that usually include access to even more XXX content. He rest is pretty standard – all of the webcam chat features that you know from any other site.
How To Register...
All you've got to do in order to join Cam With Her is to fill in a short and quick form – username, password and email. You will need to validate your membership, so do provide an actual email, preferably one for which you can still remember the password.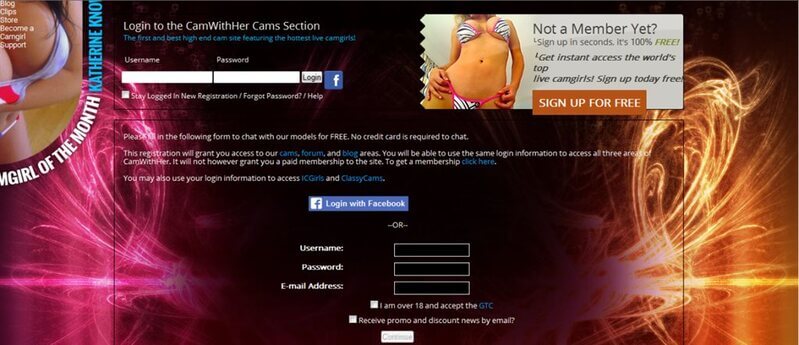 The Ways You Can Chat...
I don't usually bother explaining about the different types of sex chats on adult webcam sites because, let's face it, they're all the same. However, CamWithHer has to be special and I believe that some clarification is in order.
Private Chat – This is not a private chat (kind of like that painting of the pipe, right?), but a group show. You can watch ad chat the nude model, but so can other paying members.
Spy Chat – That type works the same as other live adult webcam sites. You can "spy" on other people's sex chats.
VIP Chat – Finally, the video chat which is both nude and actually private.
Free Chat – This is not the regular free chat that you know from other websites. Here you can only text chat with the model, without seeing her.

Quality of The Videos...
Cam With Her has great video quality and I mean it both in the video chat sense and in the adult video sense. The adult video archives here are incredible and while the streaming quality also depends on your internet connection, and the camgirls', all of the chats I had were smooth. The webcam models here have very high level of web cameras so you get to see every move with alluring clarity.
How Much It'll Cost You...
If you like those smoking hot webcam models on Cam With Her (and I bet you do – who the fuck wouldn't?), get ready to separate from quite a bit of cash because this sex chat community might be sexy, but it's also costly. You can text chat for free, but group shows will cost you round 5 credits per minute – and note that this adult cam site calls them "private". They're not private – they're group webcam sex shows. Spy chats are not much cheaper – they cost between 4.5 and 5.5 credits per minute. VIP webcams – the actual private ones - cost between 7 and 8 credits per minute – on average. That's high comparing to the other webcam sex sites in the industry.
Here are the currently available credit packages. Take your pick – price per credit remains the same.
| | | |
| --- | --- | --- |
| Number of Credits | Cost in USD | Cost is Euro |
| 10 | $10 | €10 |
| 20 | $20 | €20 |
| 50 | $50 | €50 |
| 100 | $100 | €100 |
| 150 | $150 | €150 |
| 200 | $200 | €200 |
| 250 | $250 | €250 |
Notice that while basic-membership on this live adult cam site won't cost you a penny, the paid subscription is fairly expensive. It does, however, allows you to access plenty of porn videos and pics, recorded shows and will include a discount of 20% on all sexchats. The price for this subscription is $24.99 for 30 days (notice that this one is reoccurring), $27.99 for 30 days, $59.99 for 90 days or, if you're not afraid of long-term commitments, $99.99 for 180 days.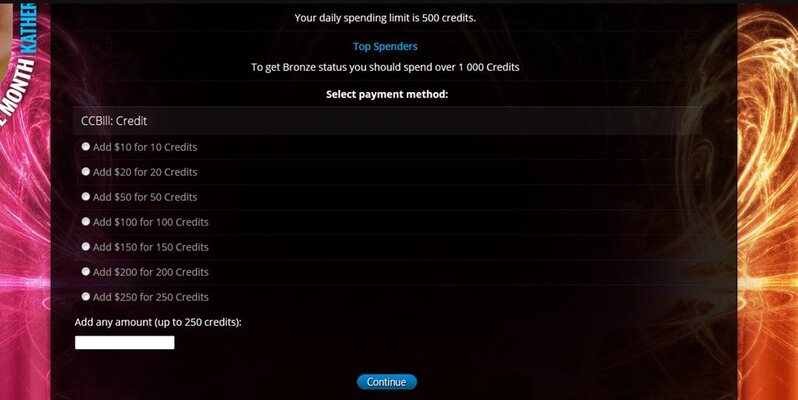 The Ways You Can Pay...
Decided that you actually want to see the camgirls on CamWithHer? Good for you – now get some credits. You can do so either by using various credit cards (Visa, MasterCard, Diners or Discover) or fund your account using an E-check. Europeans will be happy to hear that they can use EU direct pay and everyone will be happy to hear that the site accepts PayPal. What am I forgetting? Oh yea – this website accepts Bitcoin. Pretty cool, right?
How Many Models...
I have mentioned several times in this CamWithHer review that this is a small adult web cam site, but I am not sure if you all realize exactly how small. There are only like 100 cam models registered and only between four and tem are usually online. That is a fraction of what you see on the biggest adult webcam sites and it can be problematic for guys who actually want to choose a live sex chat partner according to some criteria.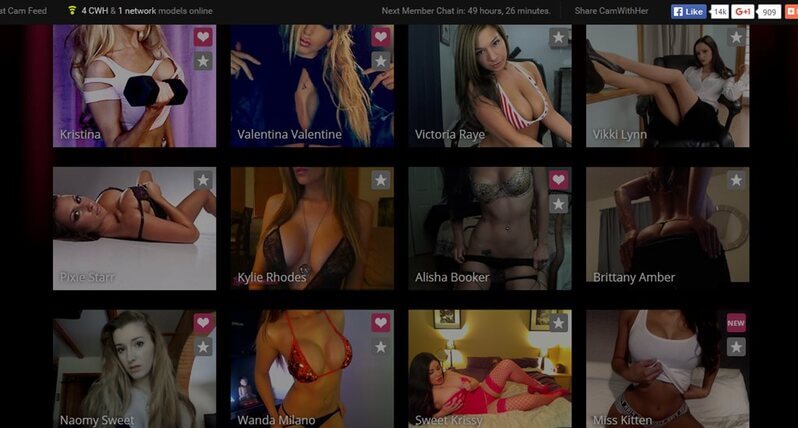 The Support You Can Get...
Need help? Look below… lower… lower… that's it. At the very bottom of the main page you will find a Support link that will lead you to a specialized assistance page. It includes a form you can fill in, but no frequently asked question, and I have to admit that I was quite shocked at first. This was the first time in a long while that I visit a nude cam site without an FAQ page. However, when I went back for a second visit I found the FAQ page – only people who are not logged in can see it: Just click the 'Help' tab and keep your expectations low.
The Good & The Bad...
Good
✔- A large video archives
✔- Membership upgrades includes a 20% discount on live sex shows
✔- Perfect webcam models
Bad
✖- Membership upgrade is expensive
✖- Usually there are very few live camgirls
Winding Things Up...
I am sure that you already know that this adult webcam community is far from perfection. There are many problems than need resolving and while there are certain aspects of this website that are extremely well-made, it struggles in some of the mainstream requirements. At the end of the day, I wouldn't recommend CamWithHer to anyone, but this doesn't mean that I don't think some of you guys can enjoy it. If you got excited when I described the huge porn video selection and the bonus sites, perhaps you should use the free membership to take a better look around. Who knows – you might decide that you like it enough to stay.
Review of CamWithHer.com
- Reviewed by
topratedcamsites.com