AsianCamModels.com - The Best Place to Encounter Hot Asian Babes
Do you like top rated cam sites? You do? Do you like top rated Asian cam sites? You do? Do you like Peroni Nastro Azzurro, Japanese martial arts films and Kasabian? Then you and me are going to be the BESTEST of friends! Let's celebrate this new bromance by me writing another one of my staggeringly good top rated cam site reviews, and you reading it! The site I have for you today is called AsianCamModels.com.
First up, some maths for you. What do you get if subtract "Tranny" from "TrannyCamModels.com" and add "Asian" instead? You get AsianCamModels.com of course! And, if you ain't guessed yet, this is another cloned site affair, as TrannyCamModels.com is a the "Trannys" version of AsianCamModels.com. I did wonder why so many of the models at TrannyCamModels.com were Asian! So now I know, and so do you. Anyhow, AsianCamModels has been around since 2004, providing juicy Asian sexiness to porno cam lovers everywhere.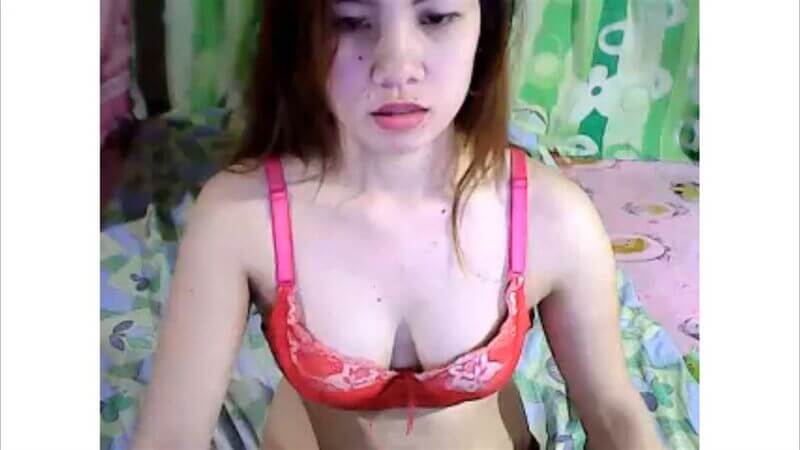 My Initial Thoughts ...
Guess you already know the shizz at AsianCamModels.com - and so you should if you've read my review of TrannyCamModels.com, although if Asian babes are what floats your boat then maybe you've not been to the shemale section of my site yet? Anyhow, don't worry if you cannot speak Asian-type lingo, as every thumbnail here has a little flag which tells you what tongues your models can converse in, and a great many have the US Flag, which means they can talk in English. I've found out that most of the sexy cam girls here are from the Philippines, which has English as one of its languages.
I'm perfectly positive about the design of the site: pinks and purples and blacks. From the menu you can see each model's perfomer name and whether they have a HD cam. You can pick the free chat option (or private if you're a member) or take a peek at the Asian cam model's profile to get to know her a little better. Some have photos and videos they have uploaded. The "sneak a look" cam view works at this site, which is something that always pleases me. The upper menu isn't too brilliant - options to look at the complete list of Asain sex cam babes, and any faves you've saved (again if you're a member). You can modify your own profile, use the messaging system, or access the FAQs or support pages.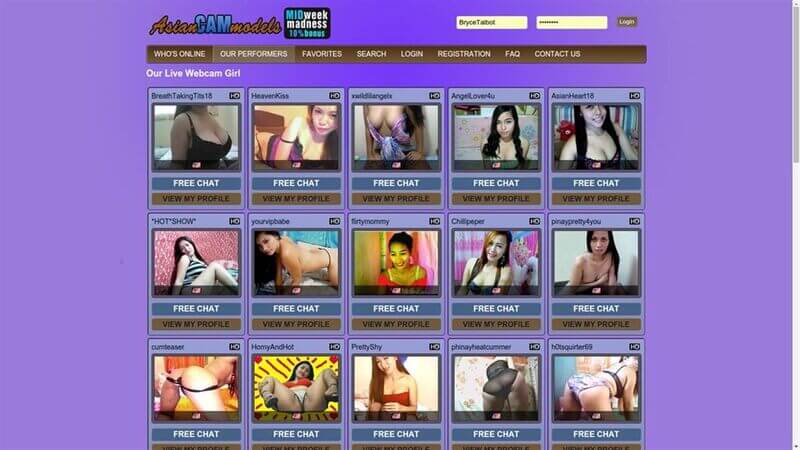 And that about wraps it up! AsianWebCams.com is not a site to go to if you like a lot of little extras.
Those Extra Features ...
I'm not going to repeat myself!
How To Register ...
If you're already a member of TrannyCamModels, or another site called Cams2Chat.com, then you don't need to register here. For everyone else, just select "Registration" from the menu and it's ready, steady, go! All you need is a username, your valid email address, a screen name and to confirm whether you're a boy or a girl. Fill out all your details, a-ok you've studied the T&Cs, then click the "OK" button. You're registered in full once you've confirmed your email address.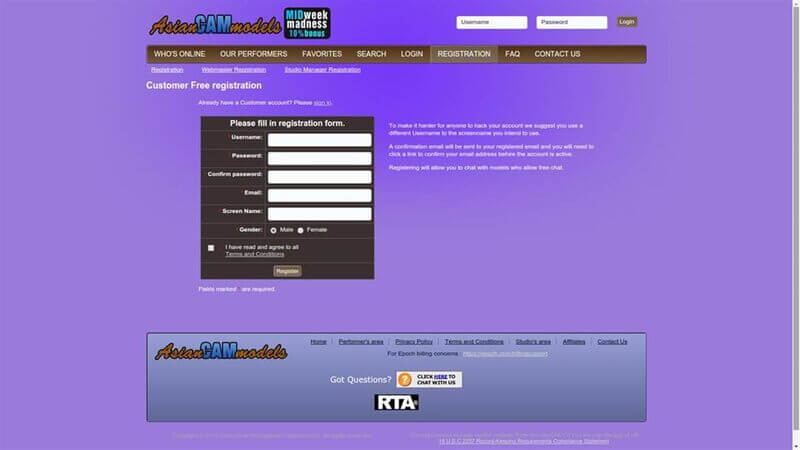 The Ways You Can Chat ...
Free chat has a strict time limit of one hour per sex cam model. There's two other options: Group or Private Chat. They cost the same in credits ($1 a minute). Mostly you're the sole punter in the Asian cam performer's room, so Private or Group chat is just splitting hairs.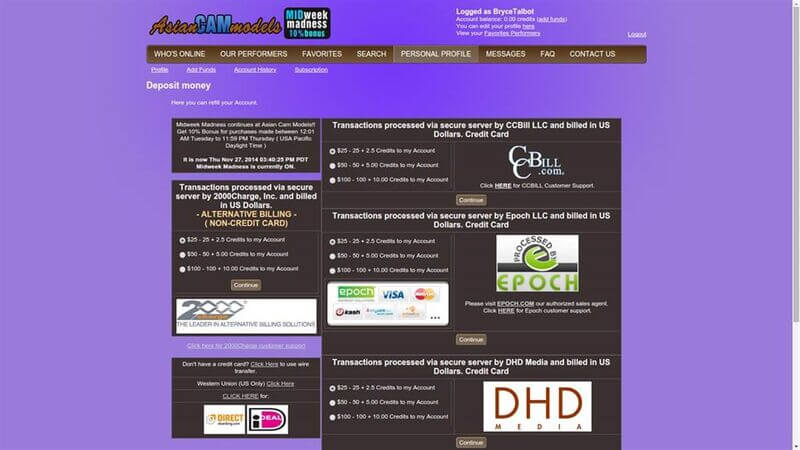 Quality of The Videos ...
Hmm ... well, some of the "HD" is not great, and not as smooth as perhaps it ought to be. Some of the SD isn't great either, and going full screen maxes out your CPU! Not good ... not good at all ...
How Much It'll Cost You ...
Now we're talking (lol!). They say talk is cheap and that's the case here ... one credit is one dollar, and most chat is one credit per minute! Wowzer!! You can buy credits in packs worth $25, $50 or $100, and if you buy on Tues, Weds or Thurs, you get a 10 percent bonus.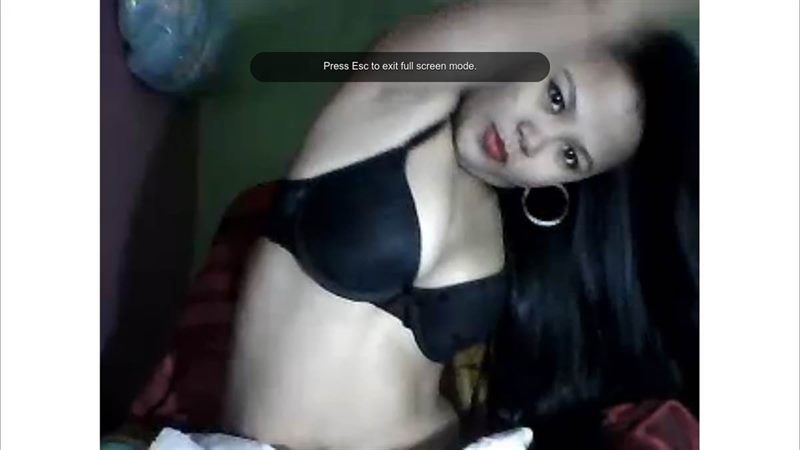 The Ways You Can Pay ...
The site accepts most forms of plastic, or Ukash, Paysafecard or Clickandbuy if you don't like revealing your financial details online.
How Many Models ...
There are 4,500+ profiles registered at the site. I counted over 100 models online when I took a look.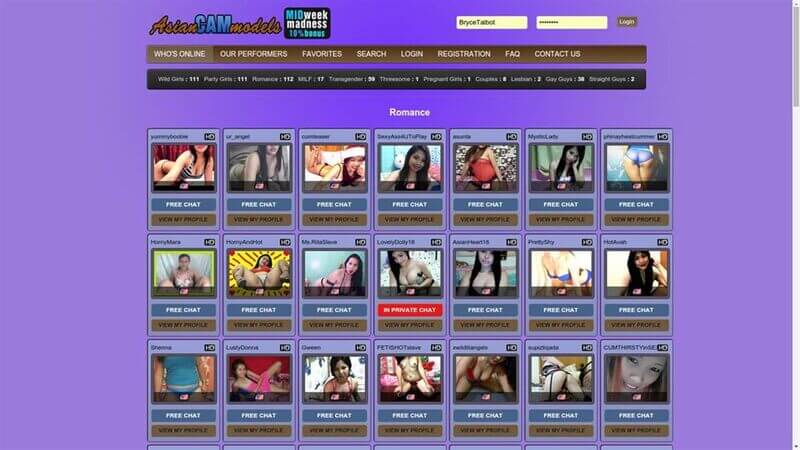 The Support You Can Get ...
Contact form, email address or live chat. I used the live chat and someone did respond to me nice and quickly. They weren't very helpful though.
The Good & The Bad ...
Good
✔ - Free chat is free, and paid chat is only $1 a minute!
✔ - A very, very nice selection of models.
✔ - Most of the models are lovely and friendly and willing to put on a super sexy show for you.
Bad
✖ - Another Asian cams site that hasn't got many extra features.
✖ - Low prices = models wanting you to go private, so don't expect a lot for free.
Winding Things Up ...
Well it's a thumbs up for AsianCamModels.com from yours truly. I like to yap, and I enjoyed chatting to the x-rated cam performers here. Things get even better if you push a few credits the models' way. I humbly suggest you go and investigate yourself at AsianCamModels.com, as I guarantee you are more than likely to find exactly what you are looking for!
Review of AsianCamModels.com
- Reviewed by
topratedcamsites.com